This past Sunday we were out marketing ourselves old-school, visiting places we wanted to do business with and delivering hand written cards. Brannan Cottage Inn was on our list to visit but we hadn't actually been there since its remodel and reopening late last year… we were amazed!
When I went in, I wasn't expecting to actually see anyone (it was late Sunday afternoon) but I was fortunate enough to meet Kathleen. Kathleen is in charge of hospitality and event services for the Inn and she graciously showed me around.
The Inn (cottage) was originally built in 1862 by Sam Brannan as part of the Hot Springs Resort and is the only cottage that's still in its original location. The recent restoration resulted in a wonderful, modern twist on Victorian elegance.
Aside from the amenities you would expect in a recently remodeled historic inn, each room has its own Illy espresso machine. Is there a better way to start your wine country day than a perfect espresso in your room?
The Inn is small, only six rooms, so you should plan ahead to stay in this little gem. And, if you're thinking of a wine country elopement this would be a perfect spot. Your party could rent the entire facility and since it's surrounded with gardens you'll have everything you need for a small ceremony and reception.
Learn more about the Brannan Cottage Inn at their website brannancottageinn.com.
Images courtesy of Brannan Cottage Inn, mine didn't do them justice 🙂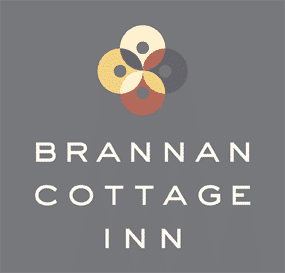 109 Wappo Avenue
Calistoga, CA
(707) 942-4200