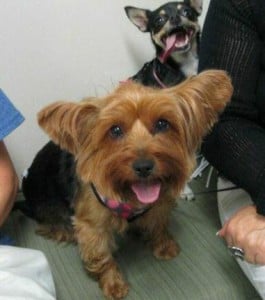 Napa Valley driver's log, May 16, 2015. It was a gorgeous day in the Valley and Lola and Coco were in the mood to hit some dog friendly wineries and see just how friendly they were.
It was a casual outing, no set itinerary, just driving up the Silverado Trail looking for furry friends, good wine & fun places to sniff around.
We started by looking at the Napa Vintners list of dog friendly wineries and although it isn't comprehensive, it does list about 100 wineries that welcome furry, pawed guests. Note that quite a few of the listed wineries indicate they aren't open to the public which means you kinda have to have a connection to visit.
With some ideas in mind, we were off…
Dog Friendly Wineries - Luna Vineyards
Our first stop was Luna Vineyards, just north of Napa on the Silverado Trail. Luna has been around for 20 years and is best known for their Pinot Grigio and Sangiovese, these are considered their flagship wines. But they also produce a number of other wines and labels.
At Luna, you can taste at the wine tasting bar but there are a few more comfy options. They have an outdoor patio with seating as well as a reserve room, both of these options make for a very comfortable tasting experience. The favorite for Lola and Coco was the outdoor picnic garden area, which can be reserved by club members.
Two paws up 🐾 from Lola and Coco, just make sure you reserve a spot outdoors to taste.
Dog Friendly Wineries - William Hill Estate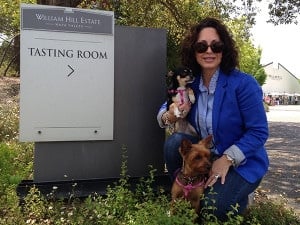 Stop number two was William Hill Estate which was less than two miles away, on Atlas Peak Road. William Hill has been around since 1978 and makes some elegant, expressive red Bordeaux wines.
Winemaker Mark Williams is making modern wines that speak to the unique terroir of this virtually unknown area of southern Napa Valley. They have a number of different collections of wine (Coastal, Napa and Bench Blend) offering great wines that can match up with any budget.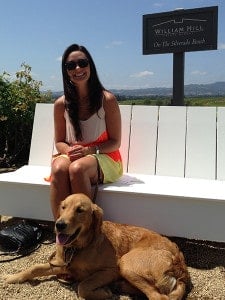 It's hard to believe that the serene settings of this estate are just moments from the Town of Napa. In fact, we met Wrigley who was there getting his his mom her favorite wine (William Hill Chardonnay) while managing to get some lounging time at his favorite winery. He was staying at the Silverado Resort and just popped up for a visit before he had to go to a graduation ceremony in Napa.
The property has a number of great outdoor areas to relax and take in the stellar views as well as a large lawn which can be reserved for private groups. The staff is friendly, dogs are more than welcome and this would be a great spot to have a picnic.
Two paws up 🐾 from Lola and Coco, and not just because they really liked Wrigley!
Dog Friendly Wineries - Paraduxx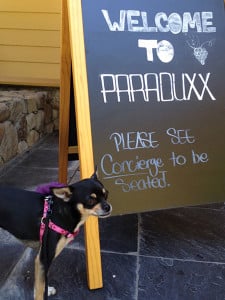 Now we decided to head a bit further up the Silverado Trail to Paraduxx which is just about at the center of Napa Valley near the town of Yountville. Founded in 1994, Paraduxx has earned acclaim as being solely devoted to stylish Napa Valley blends starting with its inaugural bottling which fused the grandeur of Cabernet Sauvignon with the robust flavors of California's native Zinfandel.
We have to say that Paraduxx has been one of our favorite places to take guests to over the years. The wine is great, the staff is amazing and the outdoor area is a small slice of wine country heaven.
Tastings at Paraduxx are in a table service format and if you're feeling adventurous and want to try your hand at winemaking, you can participate in their blending experience. They also offer a charcuterie plate with several artisanal selections that you can enjoy with your flight.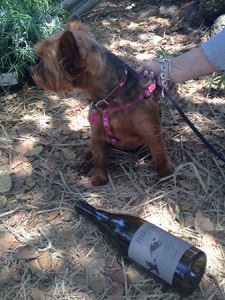 The outdoor setting at Paraduxx makes it hard for guests to leave. Being nestled in amongst the vines with great friends, great wine in your glass and a delicious charcuterie plate… why would you want to leave?
As if the wine and setting wasn't enough, the staff is top notch. If you find yourself there (without us taking you) ask for Tressa and let her know we sent you, or you at least got the idea here. But don't just take our idea for it, check them out on Tripadvisor.
The entire staff we encountered during our visit was great, but Tressa really made the experience one of our best in Napa Valley!
– Kimberly S. on Tripadvisor
Two paws up 🐾 from Lola and Coco… great outdoor space, not crowded next to others and they have bowls for the dogs! Coco's only gripe, she ran out of wine. Good thing we grabbed her before she ran to the next group.
Dog Friendly Wineries - Rutherford Hill Winery
The final stop for the day was a bit higher up in the hills at Rutherford Hill Winery. Founded in 1972, Rutherford Hill Winery is a pioneer in the development of California Merlot. The growers who founded Rutherford Hill carefully studied the geography of the region and capitalized on climate and soil conditions that resembled those of Pomerol, the small but distinctive Merlot-growing region of Bordeaux. Today, Merlot remains the flagship wine of the company with 75 percent of Rutherford Hill's production dedicated to this varietal.
Rutherford Hill has the most tasting and tour options of the wineries we visited today. Dedicated picnic grounds with spectacular views of Napa Valley, cave tours, tasting bar or seated terrace tastings, or a Merlot blending seminar. However you choose to enjoy Rutherford Hill, your dogs will be welcome.
There's lots of great space to spread out and let your dogs explore at Rutherford Hill. Just keep them leashed so they don't try and steal someone else's picnic… Coco.
Two paws up 🐾 from Lola and Coco, even though Coco wasn't able to steal the picnic.
There are certainly many more dog friendly wineries to visit than the four we touched on here, those will have to be the subject of future chapters since you can only visit so many wineries in a day. While you're visiting wineries with your furry friends, remember to be courteous of those around you and the properties you visit, no one likes a bad dog owner.