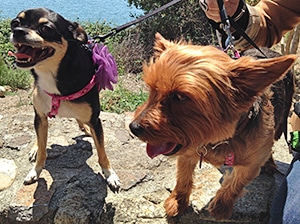 Sonoma Valley driver's log, May 24, 2015. Another gorgeous day in wine country and since we had so much fun on our last dog friendly winery adventure we decided to do it again, this time in Sonoma Valley.
We chose our destinations as though we were fairly savvy wine tourists on a day trip (no help from a wine driver or concierge). As such, we went straight to the Sonoma County Vintners Association website and looked at their suggested tasting routes (has since been removed), right at the top were dog friendly destinations in Sonoma Valley… score.
We know there are many more dog friendly wineries in Sonoma but this was perfect for our little day trip to Sonoma Valley. So, we picked three and hit the road.
Dog Friendly Wineries - Gundlach Bundschu
Our first stop was Gundlach Bundschu which is just East of the Town of Sonoma. Jacob Gundlach first planted vines on the property in 1859; six generations and over 150 years later the family is still tending the vines.
There's quite a few tasting experiences available here: a wine bar tasting, public or private tours, cave tours, private library tastings or a tasting at the site of the original family home. Also, there's plenty of room and tables to enjoy a great wine country picnic.
Since outdoor space is plentiful here, you're more than likely going to run into other dogs getting their owners out and about for a well deserved break… we did.
Two paws up 🐾 from Lola and Coco, lots of outdoor seating, plenty of shade and a few other dogs to chat with.
A quick Snack - Sonoma's Best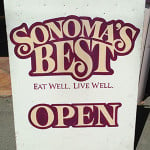 We hadn't actually packed a lunch to eat at Gundlach Bundschu so we decided to stop for a little snack. Just down the road is a great little deli, appropriately named Sonoma's Best. We had a couple of latte's and grabbed some of their fresh gazpacho soup… delicious! There's plenty of wine to be had at this little market and they have a great garden area to sit and enjoy everything. They also have four cozy cottages available for overnight stays.
Dog Friendly Wineries - Buena Vista Winery
The second winery we visited is also California's oldest; Buena Vista Winery was founded in 1857. Just outside the town of Sonoma, the original winery is now a California Historic Landmark under the care of Jean-Charles Boisset.
Just like Gundlach Bundschu, there's lots of tasting experiences to choose from at Buena Vista plus a lot of room to spread out and roam including a small maze with tables.
Some of their more unique offerings are include a blending seminar, a historical wine tool museum tour and tasting, a family friendly (non-wine) cave tour, and pre-built picnic hampers (24 hour notice required). The fact that they will supply picnic hampers should be an indication that this is another great picnic spot… it is.
Two paws up 🐾 from Lola and Coco, lots of outdoor seating, plenty of shade, lots of other dogs to chat with.
Dog Friendly Wineries - Kunde
Our day ended at Kunde Family Winery, mostly because we became too relaxed on the lawn, eating oysters and enjoying the company of Celine Dion and her humans, to leave. An ending that was more than OK with us, that's what a relaxing day in wine country is all about.
Kunde, like the other wineries we visited today, has been in operation for over 100 years. They're also still family owned and operated with a hands-on team of 4th and 5th generation family members at the helm.
Tastings range from $10 to $40 for their mountain top tasting experience and they host events quite often. We happened to be there on a day they had oysters and that was the icing on the cake of our afternoon.
Lots of different tasting areas, open space, lawns and a pond… just a great setting. All this plus the wine is more than reason enough to escape to wine country, if only for the day.
On our adventure we met Charlie and Celine Dion, who were both escaping San Francisco fog for the day. Two paws up 🐾 from Lola and Coco plus two more 🐾 from Charlie and Celine.
We only touched on a few of Sonoma's dog friendly wineries today, there's many more and that gives us great reason to head back out in the future. Until then, remember to be courteous of those around you and the properties you visit, no one likes a bad dog owner.