Be careful who you enjoy your next glass of wine with, you may end up in the wine business with them. That's what happened at Elizabeth Spencer, another client favorite winery. In 1992 Elizabeth Pressler and Spencer Graham began enjoying wine together and in 1998 established the winery. It wasn't completely on a whim though, they both had already enjoyed careers in the wine industry.
They believe wine should be delicious and representative of its appellation of origin. If asked, they will tell you that the model for all of their wines is intensity without excess weight, purity, persistence and length.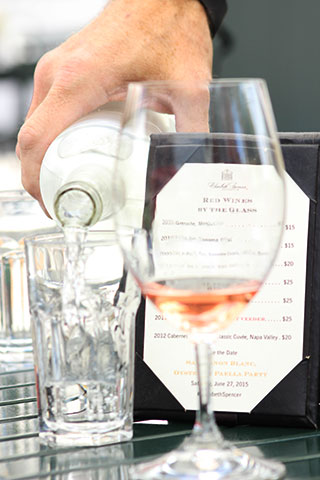 Spencer produced the first wine of Elizabeth Spencer, the 1998 Napa Valley Cabernet Sauvignon, and has continued to direct the winemaking program. He hasn't had to keep doing all the hard work though, in 2010 they added the talented Sarah Vandendriessche as winemaker and she was hands on from the start.
Elizabeth Spencer is located right at the intersection of Rutherford Road and Highway 29, across the street from Beaulieu Vineyard and the Rutherford Grill.
What started with a Napa Valley Cabernet Sauvignon began to grow into a rather diverse portfolio of wine as they began exploring the many and varied terroirs of Napa with varietals like Sauvignon Blanc, Chardonnay, Merlot and Cabernet Franc. The hills couldn't keep them away from Sonoma and the unique soils and climates of the Sonoma Coast, where they grow Pinot Noir and Syrah, and up into Mendocino, Riesling, and Pinot Blanc and don't forget Grenache.
We love Elizabeth Spencer and are pretty sure you will too 🍷
Four different tasting experiences
Charter Tasting
A tasting of current vintages of both white and red wines. This tasting showcases the rich diversity of wines and winemaking at Elizabeth Spencer. Offered daily at the stand-up tasting bar and at café tables in The Courtyard. This is their most popular tasting. No appointment required.
Cellar Tasting
This tasting offers the unique opportunity to experience perfectly aged, older wines. Guests enjoy and learn about the complexing nuances found in more mature wines. They set aside a collection of their small production, rare wines and age them in the temperature-controlled wine cellar so that they can offer them when they are more fully developed.

Blind Tasting
Learn how to identify individual wine characteristics and learn how to speak about wine. Guests are given guidance about how to discern the unique characteristics of several different grape varieties and how to identify them all while also learning the language of wine. Guests are lead through the tasting without knowing the varieties being tasted ("blind"). Wines are revealed at the conclusion of the tasting.
Cabernet Appellation Tasting
A Tasting of Cabernet Sauvignon from several Napa Valley appellations. Featuring their small production, single-vineyard Cabernet Sauvignon made from grapes grown in different parts of Napa Valley. Learn the individual characteristics attributed to each region and how to identify and talk about the wine's character and flavor. Tasting includes four to five single-vineyard Cabernets from several appellations. Rutherford, Oakville, Mt. Veeder, Howell Mountain, Spring Mountain and others may be included.
If you're in Rutherford looking to taste wine, give Elizabeth Spencer a try! You can learn more about them on their website http://www.elizabethspencerwines.com/.


1165 Rutherford Rd
Rutherford, CA
(707) 963-6067