There are a few wineries that have garnered a thumbs up from every guest we've taken there… hope & grace is one of them.
Interestingly, the hope & grace tasting room isn't located in the middle of a vineyard or in a winery building. Instead, it's what's called an urban tasting room and is located right in the middle of Yountville.
hope & grace is the personal project of winemaker Charles Hendricks which began with his opportunity to purchase Pinot Noir grapes from the renowned, Robert Talbott, Sleepy Hollow Vineyards, in 2001. After securing these amazing grapes he realized he needed a label and a name and turned to two of his inspirations, his daughters Hope & Grace.
Their production is very limited, only 2,800 cases per year, and is focused on single vineyard 100% varietal wines: Pinot Noir, Cabernet Sauvignon, Malbec, Chardonnay, Sauvignon Blanc & Dry Riesling.
Three different tasting experiences
Wine & Cheese Pairing
$25 Per Person
Savor seasonally selected wines, paired with a delicious array of fruits and cheeses. Journey through our boutique selection guided by one of their knowledgeable staff.
Private Seated Wine Tasting
$20 Per Person
Reserve a private seating in the art gallery, surrounded by a rotating selection of work by local artists, as one of their wine experts pours tastings for you and your group.
Salon Classic Wine Tasting
$15 Per Person (Up to 4 guests)
Taste in their tasting salon with their seasonally selected artisan wines. Their tasting room bar and artfully decorated salon is a perfect way to experience the wines they have available.
If you're in Yountville looking to taste wine, give hope & grace a try! You can learn more about them on their website www.hopeandgracewines.com.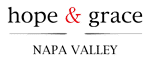 6540 Washington Street
Yountville, CA
(707) 944-2500