When Steve MacRostie began making wines in Sonoma County over three decades ago, he was one of only a handful of winemakers in the area. These proud pioneers danced to a different beat, driven by a love of wine and a belief in the land's potential — saying no to big, bold Bordeaux varietals and embracing the chilly nights and cloud-covered skies they hoped would be ideal for elegant Pinot Noir and Chardonnay.
Today there are hundreds of wineries in Sonoma County, but the name MacRostie still holds special prestige. Backed by relationships with legacy wine growers and estate-owned vineyards, MacRostie Winery has managed to define and refine their own distinct style of cool-climate varietals. With winemaker Heidi Bridenhagen and Steve MacRostie's vision at the helm, this close-knit winery team continues to push the envelope for the Sonoma wine country experience.
What really sets MacRostie Winery apart isn't the fact that they are producing exemplary Sonoma County wine with every vintage — though this is certainly the case — it's their commitment to sharing their love of wine with everyone who crosses their path. You'd be hard pressed to find a wine tasting experience as personal, friendly and informative as visiting the MacRostie Estate House. Stop by on a Saturday and you may even meet Steve MacRostie himself as he stops by to chat.
Located on well-known Westside Road, the sleek new tasting room stands out in the rolling hills, tipping you off that this is not your average wine tasting. You know the one— the varietal name, vintage year, barrel time, and a few basic tasting notes are recited to you with as much enthusiasm as an airplane safety video describing how to buckle a seat belt. From the moment you pull up to the MacRostie tasting room, you know things are different here.
And actually, if you're looking to get in and out in a flash, you may want to skip MacRostie. Tastings here are intimate, comfortable, and above all, unrushed. Guests are greeted on arrival with a glass of Sonoma County Chardonnay, making you feel like a rockstar before you even get started. As you sip your welcome wine, you ponder whether to snuggle up on the cushy couches, take in the panoramic views from the terrace or grab a seat in their state-of-the-art, open-plan tasting room. Wherever you decide to install yourself, one of their dedicated and passionate tasting guides will be over soon to walk you through every pour.
These intimate seated experiences are designed to give you a real education. Side-by-side comparative tasting flights train your palate to pick up subtle differences across different vintages or terroirs. The Sonoma Sangiacomo, Dutton Ranch and Wildcat Mountain Chardonnays, all aged for ten months, highlight the unique flavors that different vineyard sites impart to the wines. Tasting the 2012 and 2013 Wildcat Mountain Pinot Noirs side by side lets you taste how a bottle changes and matures over time.
Their reputation may precede them, but it's worth noting again that MacRostie wines are excellent. The house winemaking style favors bright, sophisticated wines, and with over 45 different vineyard sites to play with, they are able to capture and showcase a broad diversity of terroirs.
If you're looking for a wine tasting experience that offers something different, MacRostie is a must visit. Their beautiful new Estate House and inviting approach to tastings make it clear that this old winery isn't afraid to reach for new heights and horizons. You can learn more about MacRostie's new estate and wine tasting options on their website.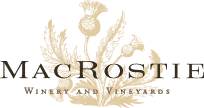 4605 Westside Road
Healdsburg, Ca 95448
(707) 473-9303