We're often asked to pick sides when it comes to beer and wine. Are you a beer person or a wine person? We've all been asked this before. Many people are adamant about their side, but in the wine world the two are intertwined. As the saying goes (and as anyone who has survived a crush season can tell you), "it takes great beer to make great wine". Now the opposite it also true. It takes great wine to make great beer, at least at St. Clair Brown Winery, where they are working on a microbrewery addition to their facility.
St. Clair Brown is an urban winery in the city of Napa. The garden tasting room and winery opened in 2013, converting a greenhouse into a wine tasting oasis. Tastings held amongst the raised beds of their garden are complemented with a seasonal menu of small plates. Most ingredients are sourced directly from those very beds.
The winery was named after its partners—Elaine St. Clair and Laina Brown. Both women are veterans of the winemaking industry, Elaine as a winemaker and Laina as marketing and hospitality guru. Their paths crossed while working together at Domaine Carneros and Black Stallion; the two decided to combine their years of experience to create something entirely their own. A brewery was on the agenda from the beginning. With a destination venue on their hands, they are gearing up to finish construction and release their first batch of beer.
Elaine's experience as a winemaker goes from sparkling wines at Napa's renowned Domaine Chandon to developing a Pinot Noir program at Domaine Carneros. Along the way, she also put her fermentation degree to use as co-owner of Napa Ale Works. At St. Clair Brown, she gets to harness her passion for winemaking and brewing.

The wines at St. Clair Brown are representative of Elaine's career in wine. Each wine is beautifully feminine, delicate and made with the finesse that only someone with years of experience in Pinot Noir and sparkling wines can master. A true boutique winery, they produce 200 cases or less of all the wines in their collection. Their wine program includes Cabernet Sauvignon, Merlot, Syrah, Zinfandel, Rosé of Syrah, Chardonnay, Sauvignon Blanc, Pinot Grigio and sweet Muscat. Attention to detail is paramount, with all grapes being sourced from independent growers around the area. Some of their contracts are for as few as two rows of grapes.
The food menu is a perfect pairing to the refined wines. The team manages to stay creative within their farm to table mission. The offerings change daily, depending on the garden's bounty. Chef Norma Whitt whips up delightful combinations such as hummus with cashew butter substituted for tahini, and duck confit with maitake mushroom conserva and sheep's milk ricotta. Guests are invited to nibble on anything from the garden during their stay. A trip around the grounds is sure to uncover some delicious treats.
You can visit the winery at 816 Vallejo St, in the heart of Napa. Enjoy one of their 4 flight wine samplers amongst the garden or in the greenhouse with a sampling from their garden menu. All of their wines are also available in 1/2 glass, glass, 1/2 bottle, Carafe or bottle. You can learn more on their website stclairbrown.com.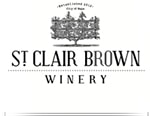 816 Vallejo Street
Napa, CA
(707) 255-5591