Wine tours with you in mind… matching the wine styles you enjoy with the experiences you and your guests want to have is our passion. Whether it's in Napa or Sonoma, our goal is to have every one of our wine tours fit our guests like a fine tailored suit.
There is nothing wrong with group wine tours or pre-planned itineraries, and many wine country tour operators and driving companies excel at these, but even if you enjoy traveling with complete strangers, a generic itinerary is always going to mean compromises… and simply driven doesn't compromise when it comes to our guests experiences.
Between Napa and Sonoma there are over 800 wineries with unique wines, properties, tasting rooms, personalities and visitor experiences. We are here to help harness this diversity and turn it into a personalized wine tour made just for you.
Options will range from prominent brand name producers to small family-owned (boutique) wineries where you may taste with a family member on the deck of their home (as pictured).
Whether you want to travel the main roads, get off the beaten path and discover the parts of Napa Valley or Sonoma that few people ever see or something in between, we'll make sure your wine tour is YOUR wine tour.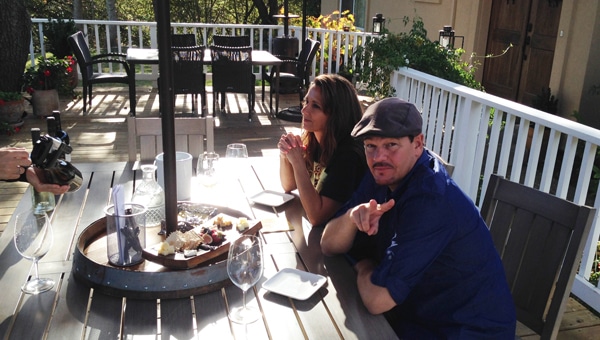 Private wine tasting Taylor Family Vineyards – Napa
After you book your driver, you'll receive a link to a simple questionnaire that will cover some of the basics of what you're looking for on your wine tour. After reviewing your answers, your driver will contact you and discuss tour options based on your wine preferences, passions and budget.
Your driver will also be your concierge… the person that helps you plan your visit. This is critically important to building a personalized day for your group. We know from our experience of working for other tour companies how awkward it is when a driver shows up and doesn't know any of your backstory or personality and a re-education has to take place.
---