Mount Veeder wine tours… small yields, epic wines. Only truly passionate vintners and growers venture to Mount Veeder for their fruit.
The area's steep slopes and rocky terrain present extremely difficult growing conditions, which give Mount Veeder both the longest growing season and the lowest yield of all of Napa Valley. The inhospitable soils make it difficult for grapevines to thrive here, which limits the number of clusters they can produce, and the size of the individual berries. Because the vines are perched on rocky slopes, hardly any tractors or other farming machinery can be used, and virtually all the vineyard work must be completed by hand. Visiting these hardworking Mount Veeder wineries gives visitors a real appreciation for the incredible work involved with mountain viticulture, and also why it's all worthwhile.
Many people have never heard of the Mount Veeder winegrowing appellation, although at 25 square miles, it's actually the largest AVA within Napa Valley in geographic terms. Since only 1.5% of its total area is suitable for viticulture, though, and the grape yields on that 1.5% are as low as two tons per acre (about half the Napa Valley average), there aren't a lot of grapes being produced. Bottles are therefore rare, and highly prized for their focused intensity.
The Mount Veeder AVA Story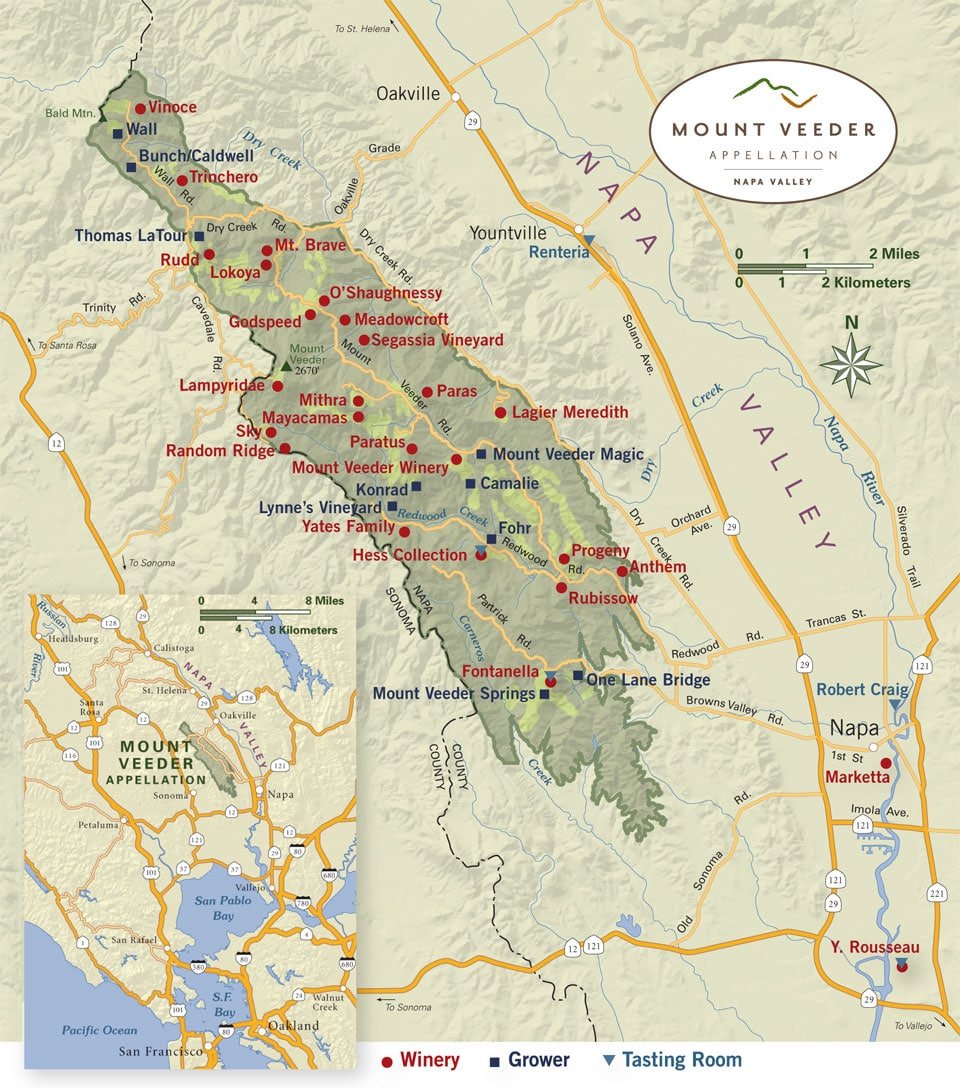 Mt. Veeder soil is also quite unique for Napa Valley — an ancient seabed perched on the side of a mountain, surrounded by more typical volcanic soils. Its high elevation vineyards are cool, but above the fogline and thus exposed to more sunlight throughout the day than vineyards on the valley floor. With plenty of sunbathing opportunities, and roots burrowed deep into the rocky slopes, the hardy few grape clusters that do reach maturity typically develop deeply concentrated flavors and soft tannins.
These severe growing conditions make for striking scenery, as well as striking wines. Steep hillsides, red soils and wild, wooded landscapes surround the tiny patchwork of vineyards. The local winegrowers' commitment and passion inspire many people to visit, but the wines are really what keep them coming back year after year. Several tasting rooms in Mount Veeder are open to the public without an appointment, and many others you can visit simply by calling ahead to set a time. These unique and intimate wineries of are well worth the short trip west from Napa and Yountville, but if you don't have time to make the pilgrimage, keep your eyes peeled for single-vineyard Mt. Veeder wines at other wineries — you'll thank us later.
Favorites for Mount Veeder Wine Tours
---