You're ready to visit Napa Valley or Sonoma Wine Country, but are you ready to make the most of your trip? If you've hired us to be your wine country driver, you've got most of this covered already… if not, read on.
Here are 10 tips to help you make the most of your wine tour: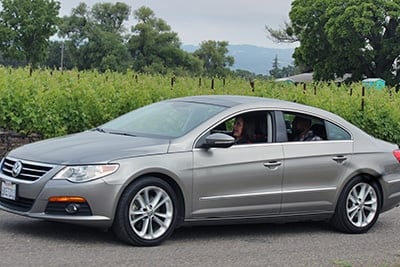 1. Hire a driver
Even if you're careful, you'll drink more wine than you realize. Not only is hiring a driver imperative to the safety of those with and around you, a DUI will give you unwanted wine country memories for years to come. Also, a good driver will know their way around and will likely help you with planning your trip.
2. Plan ahead
This is very important. Wine country is very spread out and what looks like a short distance on a map could take a significant amount of travel time. Also, many of the places you'll want to visit likely require an appointment. In fact, some of the most sought after properties are booked months in advance. Having a plan before your tour day will make for a much more relaxing experience. The Napa Valley Vintners and the Sonoma County Vintners both have online tools to help with planning visits to wine country.
3. Don't do too much
Even if you planned carefully, it's very difficult to really enjoy more than five wineries a day. You want to have time to wander, talk to people in tasting rooms and have a nice lunch (ideally, a picnic at a winery you're visiting). We recommend making no more than three appointments, spread out through the day, this will keep you from rushing any of your tastings and will leave plenty of time to stop by properties that don't need an appointment.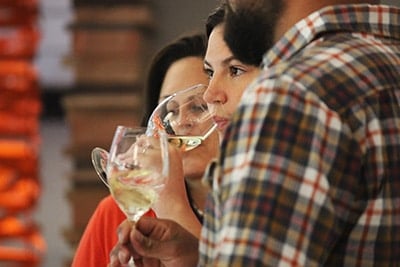 4. Start early
Most wineries open around 10 a.m., and that's when you should start too (no excuse needed to start drinking before noon). You'll find wineries get busier throughout the day and the personal attention you'll receive from winery staff may wane as the crowds increase. Also, most wineries close around 5 p.m. so you'll want to be wrapping up your wine tasting day when they are. Too often we see people get a late start and are surprised that wineries aren't open later. One thing to note, urban tasting rooms are open later.
5. It's OK to share
If you are wine tasting with someone with whom you are close, share a single tasting. This keeps the cost down in tasting rooms where there is a charge. Many visitors do this, so don't be shy about it. This is also a great way of avoiding over indulgence. If you have booked an actual wine tour, you won't likely be able to skip the extra fee since tours usually have limited space and require payment for each person touring.
6. Get outside the box
Most wineries offer tastes of small-production wines that never leave the tasting room, reserve wines or library wines that have been aged. Forget the goto Chardonnay, this is your chance to try something new, with minimal risk. Ask if there is something that's only sold at the winery.
7. Take notes
If you make it to five wineries and try multiple wines at each winery, it's unlikely you'll remember the name of that single vineyard Pinot you loved in the morning. As a minimum, use your phone to snap pictures of labels as a way to help you remember or maybe you have a favorite wine app to help with this.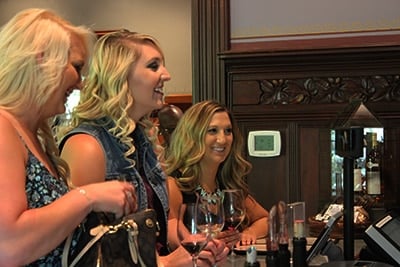 8. Pour out what you don't drink
Don't feel that you need to drink everything in the glass (even if two of you are sharing a glass). If you are going to enjoy the many wines you might sample during the day, this is important. There are spit buckets on the counter for just this purpose, and no one will be offended if you pour out.
9. Don't get drunk, whether you are driving or not
 We've observed, and people who work in tasting rooms have told us, that people who arrive in limousines are often the worst offenders. Not only do they figure they can overindulge, since they're not driving, they are usually drinking in the limousine between tastings. But don't! You'll enjoy the tasting rooms at the end of the day more if you're still fresh and haven't overindulged. In any event, drunkenness in a tasting room is awfully rude.
10. When you get home, drink up!
Not everyone has perfect wine storage conditions at home and we regularly hear of people who finally opened a bottle of wine from a winery visit they made many years earlier—only to be disappointed. If you don't have proper wine storage, invite people over to hear about your vacation and open those bottles… you know where to get more.
Most of all, enjoy wine country
Cheers!