Napa Valley and Sonoma are filled with amazing wine tasting experiences. Figuring out which types of wine tastings will fit into the experiences and budget you're looking for may be a bit overwhelming. So, we've put together this little guide to help you understand what to expect from the different types of Napa Valley and Sonoma wine tastings. We've didn't give cave tastings it's own description in this guide since you can do just about every type of wine tasting mentioned in a cave.
Common Types of Wine Tours and Tastings
Wine Bar Tasting
Price range: $15 – $50 per person
This is the most common wine tasting experience and what most first time visitors probably imagine tastings are all about.
You step up to the bar where a list of wines being poured is displayed. Some wineries will offer different tasting options such as a reserve wine tasting or an all white wine tasting. Options like a reserve tasting will increases the fee, but allow you to taste unique, old or rare wines.
While there are wineries that will require an appointment for a tasting at their bar, the majority of wineries that are open to the public won't require an appointment. If you're staying in a hotel, the concierge will likely have tasting coupons for these types of tastings which could get you either a complimentary tasting or a two for one tasting. Napa Vintners list of wineries open for tastings without an appointment >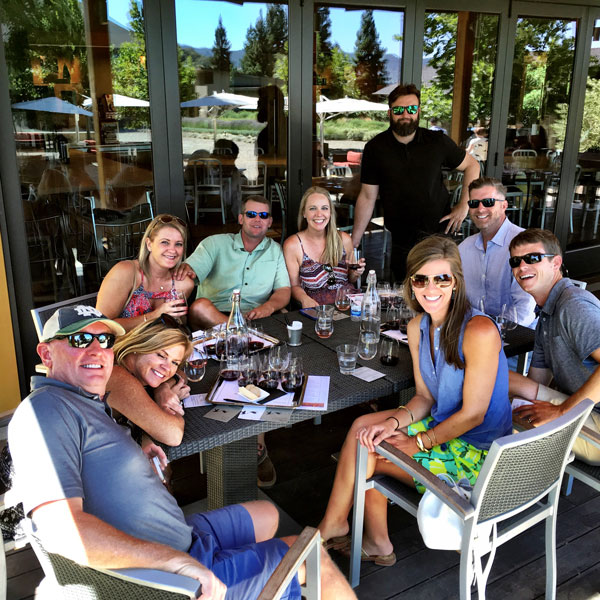 Sit Down Wine Tasting
Price range: $30 – $75 per person
Sit Down Tastings can be private or with a group and typically require an appointment. You should expect to pay a higher fee for a hosted sit down tasting than you would for a wine bar tasting. Sit down tastings allow for a more personal interaction with your host, free from the distraction of your host attending to other visitors.
This is a great option if you'd like to get more insight into a winery's philosophies, probably tasting wines that are not available at the bar, while avoiding a full tour of the winery's facilities and vineyards. Though times may vary, you should figure about an hour for a sit down tasting when planning your day.
Table Service Wine Tasting
Price range: $20 – $75 per person
The staple at sparkling wine facilities, this type of tasting is like you're at a wine bistro. You're seated at a table and the tastings are brought to you. Just like a wine bar tasting, you will often have different tasting options to choose from. We suggest getting a few different tastings among your group and sharing.
Table service wine tastings strike a nice balance between a wine bar tasting and a sit down tasting. You have the comfort of sitting down and the attention of a dedicated host. But, the host will just stop by long enough to pour and describe your next wine as well as share insight into the winery throughout your tasting.
Timing of table service tastings can vary based on your group and how much relaxing you want to do. But, you should allow at least an hour for a table service tasting.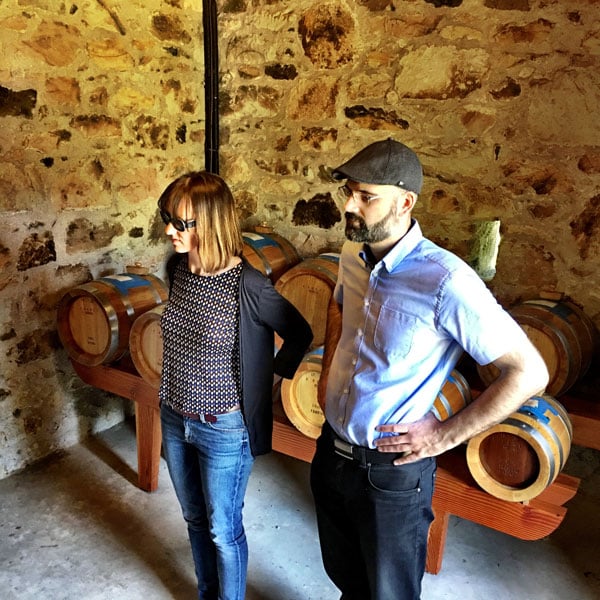 Winery Tours
Price range: $35 – $175 per person
A winery tour is the best way to get completely engaged in what a winery is doing and if you're planning your first visit to wine country, this is a great way to get some foundational knowledge of the winemaking process.
These in-depth tours generally follow the path of the grape from the vineyard to the cellar to the finished wine. Winery tours vary from estate to estate but as a basis, you will go in-depth into the philosophy behind the wineries vineyard and winemaking practices. Some winery tours will even touch on blending and technical tasting practices. Be sure to check how long the tour lasts as some of them can last 3 hours. Generally, we don't recommend making all of your appointments tours.
Elevated Wine Tours and Tastings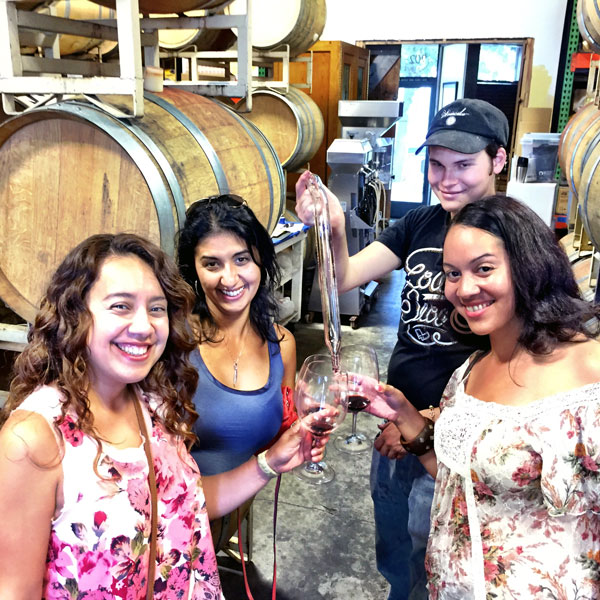 Barrel Tastings
Price range: usually included in your wine tour fee
Barrel tastings are a popular wine tasting experience that can be part of wine tours. During your tour, your guide thieves wine directly from the barrels with a special siphon placed in the bung hole in the top of a barrel. The sample allows you to taste what the wine is like in the middle of developing its full potential. More importantly, these tastings can offer the opportunity to taste how different barrels can impart different flavors into the same wine.
When Grady was at Quintessa, it was common for them to use barrels from 25 different cooperages, with wood coming from different forests and with a mix of toast levels. The winemaker uses this diversity to enhance the barrel aging of the wine.
Barrel tastings are a great way to get a feel for how the winemaker monitors the development of wine it the cellar.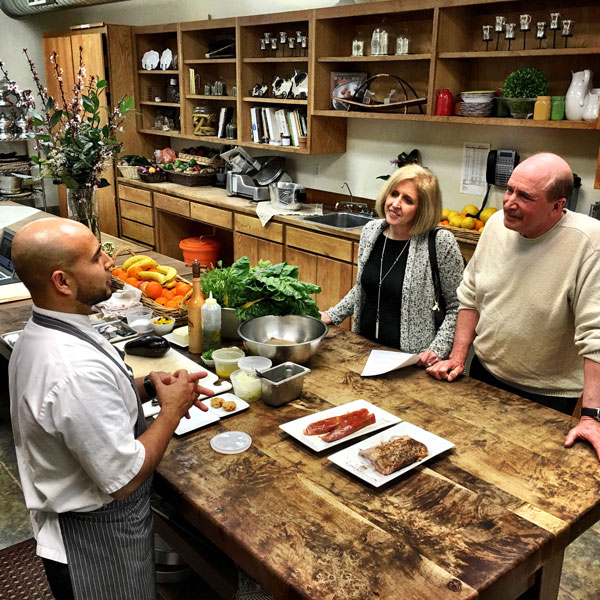 Food and Wine Pairing
Price range: $30 – $200 per person
Wine and food are a perfect match and there are many great pairings to choose from across Napa Valley and Sonoma. Whether it's a simple cheese and wine pairing, a chef prepared five course meal or something in between, you're certain to find something that fits the experience and budget you're looking for.
You can join in a group wine and food pairing experience or go completely private. If you're adventurous, you can also get your hands dirty and learn a bit in a cooking class. You can also go somewhere between a full cooking class and just sitting down by helping the chef with just a portion of the preparations.
Whatever experience you end up with, you'll be sure to get a great farm to table sensory experience.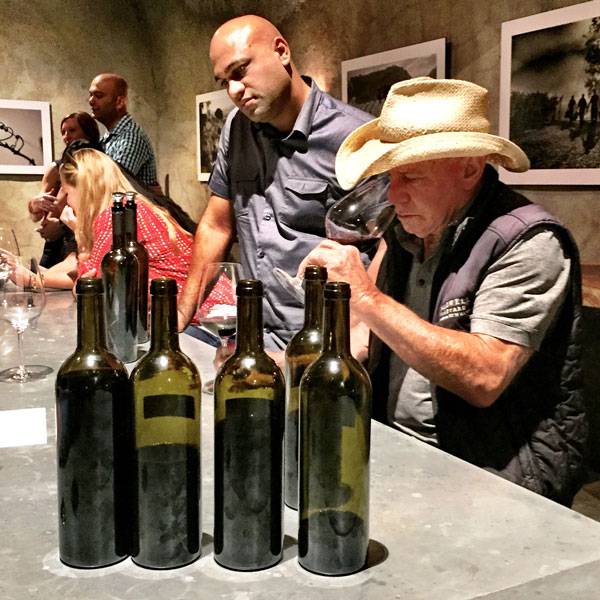 Blending Seminar
Price range: $60 – $700+ per person
Test your skills as a winemaker in a blending seminar. A few wineries throughout Napa Valley and Sonoma offer guests the opportunity to blend their own wine to take home with them. You'll typically get a tasting of the wineries wines, education about where their grapes come from and an overview of the thoughts and techniques that go into blending a wine. Blending seminars can range from quick and fun to serious and technical.
When you blend your own wine you'll be able to take your bottle home with you and some wineries will allow you to take even more of your blend than just a bottle… how about a whole barrel?
Blending seminars are a great way to experience the art and science that go into winemaking without having the expense of starting your own brand.
We've covered some of the most common wine tasting experiences but by no means did we cover every wine tasting experience available in Napa Valley and Sonoma. If you're looking to jump out of the typical wine tasting experience, we can help you put together something truly unique. You just have to ask.
Wine Tasting Guide Navigation