We've been touring guests around Napa wineries for over a decade; we've seen the Oakville Grocery change ownership many times, wineries get bought and sold, rules change from local government, and visitor policies evolve at winery estates. Things change so much around here; the list of good picnic spots we published seven years ago is entirely obsolete.
Knowing we needed to do a rewrite, we decided to try and be more comprehensive. Although the title of this article says it's the definitive guide, it should go without saying that this guide is NOT definitive. Nothing can be definitive when it comes to picnics in Napa Valley. Not with so many beautiful picnic sites alongside rolling vineyards, dazzling emerald hills, and winter weather that can trick you into thinking it's spring. Not when we throw in the region's incredible produce, mouthwatering meats, and artisanal cheeses – as well as wines fit for royalty. And certainly not when you factor in everything else that Napa Valley has to offer.
However, it is definitive that picnicking is possible in Napa and well worth the effort. You will need to put more effort into planning than just showing up at a winery with a can of Easy Cheese and some Ritz crackers though.
Planning your Napa Valley picnic: The Basics
Whether you're planning something romantic or some mid-day rest and recovery between visiting Napa wineries with your friends or family, it's essential to know the current state of what's in and out and where the best picnic grounds are you can use. That's where we come in, sharing our experience in the hope of helping you plan the perfect Napa Valley picnic. After all, there's nothing worse than being chased around picnic tables by meat-hungry, yellowjacket wasps while trying to enjoy a sandwich! So, here are the basics you should consider to ensure your picnic is a success.
Can you picnic year-round in Napa Valley?
Yes, but just because you can do something doesn't mean you should… at least, you shouldn't build your plan around it. If we consider picnicking the act of eating a meal outdoors, then seasons play a big part in how much you will enjoy your picnic experience.
In years past, you could manage a day in Napa Valley without appointments and be highly spontaneous. In those years, you could decide to picnic in the middle of December if you started your day and it was going to be warm and sunny, and there were far more venues that allowed picnicking. However, today's visits through Napa require appointments. Many wineries have restricted, been forced to limit, or have just decided to eliminate picnics on their properties, so planning is far more critical. With that in mind, here is a seasonal breakdown related to picnicking in Napa.
December, January, and February — Cold and Wet
These months are NOT ideal for picnicking, temperatures can be cold and unpredictable, and you may be braving the rain. Outdoor spaces will likely be waterlogged and not maintained as at other times of the year. When planning wine tour itineraries for guests, we don't consider picnics this time of year. However, some of the wineries that allow picnicking with their food will still offer this in enclosed spaces during the winter, but that's more like a casual lunch at a winery than a picnic.

March, April, May, and June — Ideal
These months are prime time for picnicking in Napa Valley. The weather is mild, springtime blooms fill the landscape, and vineyards are in their early season growth spurt. Also, outdoor spaces at wineries and parks will be fully accessible and cleaned up… in other words, don't hesitate!
July — Nice but Hotter
July is still good for picnicking, but it can be hot by midafternoon. Be sure to bring lots of water and look for a shaded place to enjoy your picnic.
August and September — Watch Out for Wasps
These months can be hotter than July, and harvest crowds start to show up, making reservations a bit tougher. So, if they're similar, why are they separated? Yellowjacket wasps.
In late summer and early fall, yellowjacket wasp populations are at their peak and hungry. Outdoor picnickers offer a ready-made buffet of snacks to take home to the family; you just have to sting anyone who gets in your way. Many wineries with picnic spaces will try to mitigate the populations, and you can offer up some sacrificial food placed upwind, but their stings hurt.
October and November — Ideal
These months rank right up at the top, and some folks may shift them to the top as the days are still warm and the springtime scenery has given way to the onset of beautiful fall colors with the scent of fermentation in the air. The reason we dropped them a notch below the spring months? We're coming out of harvest, and peak visitor season is this time of year, which means more crowds, making planning a bit more complicated.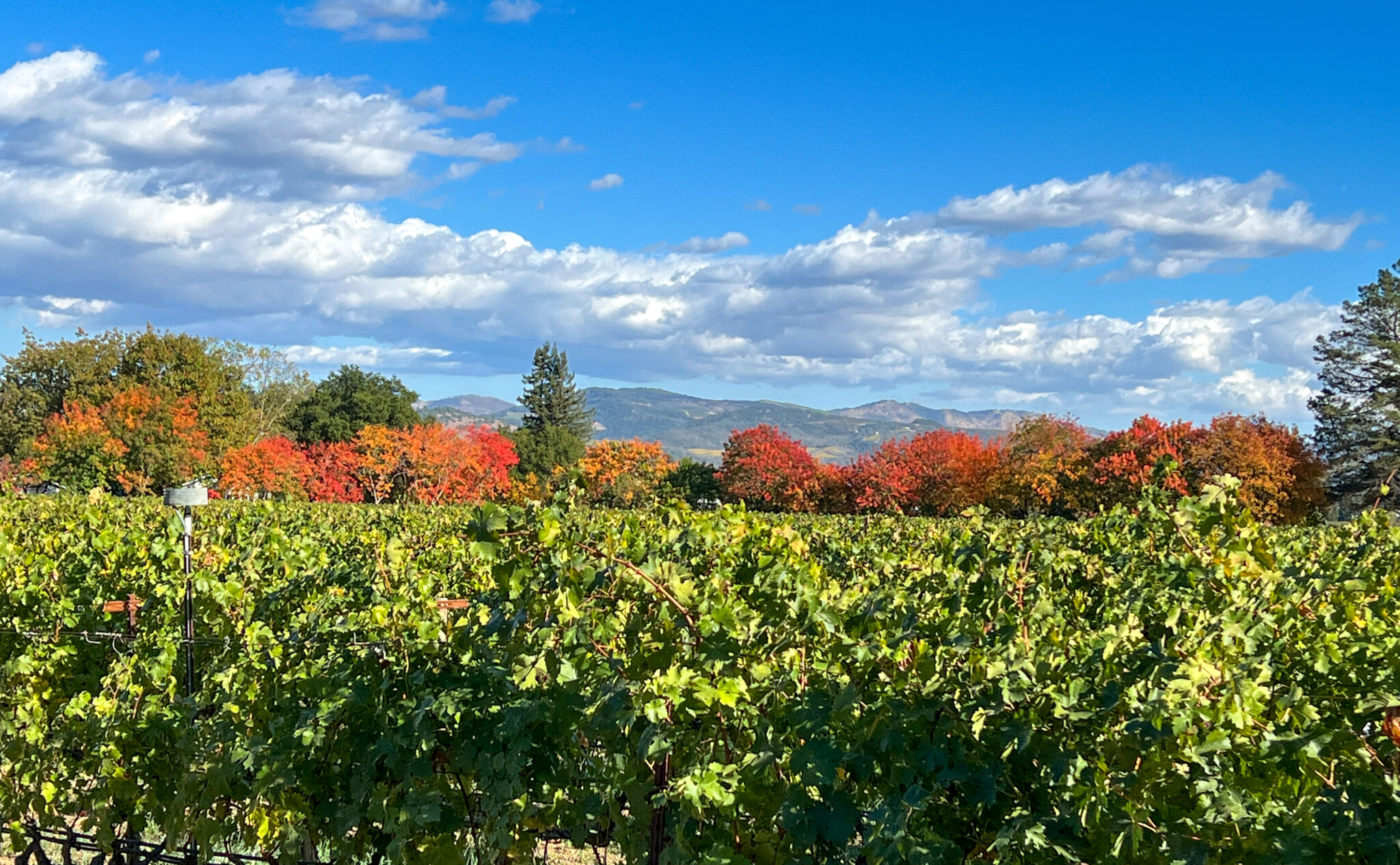 Just show up or gather picnic provisions?
This isn't complex but is essential as it determines what options are available to you and is more important if you've been tasked with planning for a group. Find out if your fellow picnickers don't want to be bothered by gathering their outdoor dining essentials, ordering boxed lunches, and building Instagram-worthy charcuterie trays. If this is the case, you'll need to stick to wineries that allow picnicking with their food and skip all the bring-your-own picnic options.
Understanding winery policies and reservations
The biggest takeaway is that you should assume that ALL wineries will require a reservation if you want to picnic and many won't allow picnicking at all. You should contact the winery of your choice when arranging your day and ensure your plans fit within their policies. That said, we'll list some of our favorite wineries below, do our best to categorize them appropriately, and note what you'll need to visit.
Considering accessibility for those with mobility challenges
Most winery-managed picnic areas will have accessible options, as will the parks we list below. But keep in mind some of the picnic areas are large and won't necessarily be 100% accessible, so it's a good idea to give wineries a heads-up if you or someone in your group has mobility challenges so they can make sure they have an accessible spot when you arrive.
Are there Napa wineries that are dog friendly and allow picnics?
Absolutely! Thankfully, Napa is dog friendly overall, and since picnics happen outdoors, it kind of makes it a slam dunk. We added "dog friendly" to the wineries we list that welcome furry family members but keep in mind we're writing about picnics. Don't assume you'll be able to do a cave tour with your dog and then picnic. For the most part, dogs are limited to outdoor spaces.
Also, this seems like common sense, but we need to point out that you should keep your dogs on a leash at any of the places we list for picnics. That will keep them within the rules and safe from hazards that might be lurking, such as rattlesnakes in a nearby vineyard or those pesky yellowjacket wasps we mentioned earlier.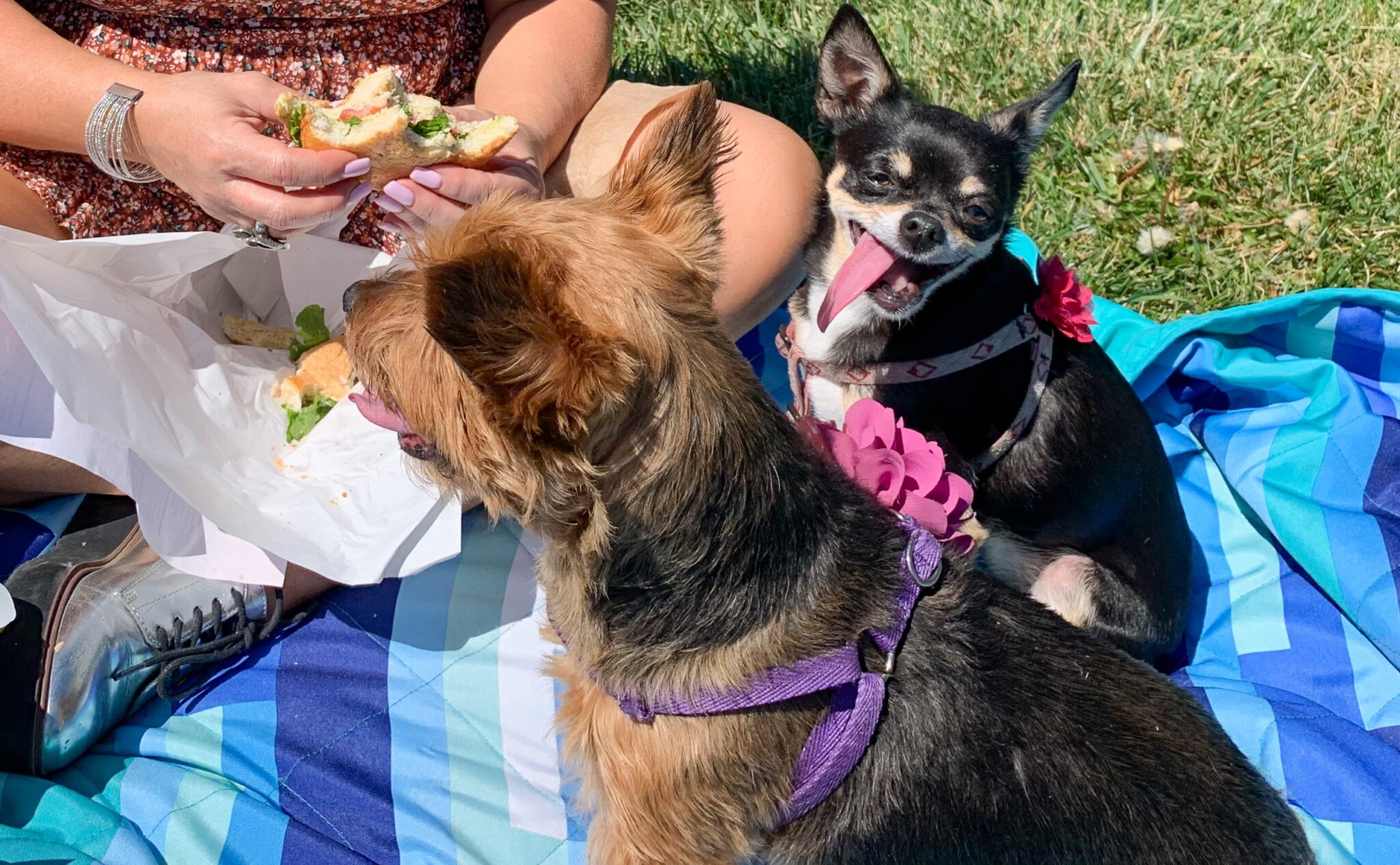 Are there family friendly wineries with picnic grounds?
Yes, there are many winery picnic grounds that kids are welcome at! Although we generally don't recommend bringing the kids along for a day of wine tasting, we know many occasions warrant bringing the whole family out for the perfect picnic.
If you have small children, you already know that city parks are the perfect picnic area for kids… playground, picnic table, bathroom, and a large lawn area. All of that and no pesky winery host checking ids. So, a great option is always having a picnic lunch at one of the parks we list below… we even use them for the wine tours we host.
Visitors find it odd that a winery with a picnic area will welcome dogs but nobody under the age of 21, and there's a reason for that. Many Napa Valley wineries have run up against their permitted visitor traffic, and the county counts all humans, regardless of their age, as a visitor against the allowed number. A few citations for exceeding your permitted visitor count, and voila, visitors under 21 quickly get banned. Now you know why you see so many parents walking around with their kids in the parking lot of Domaine Carneros.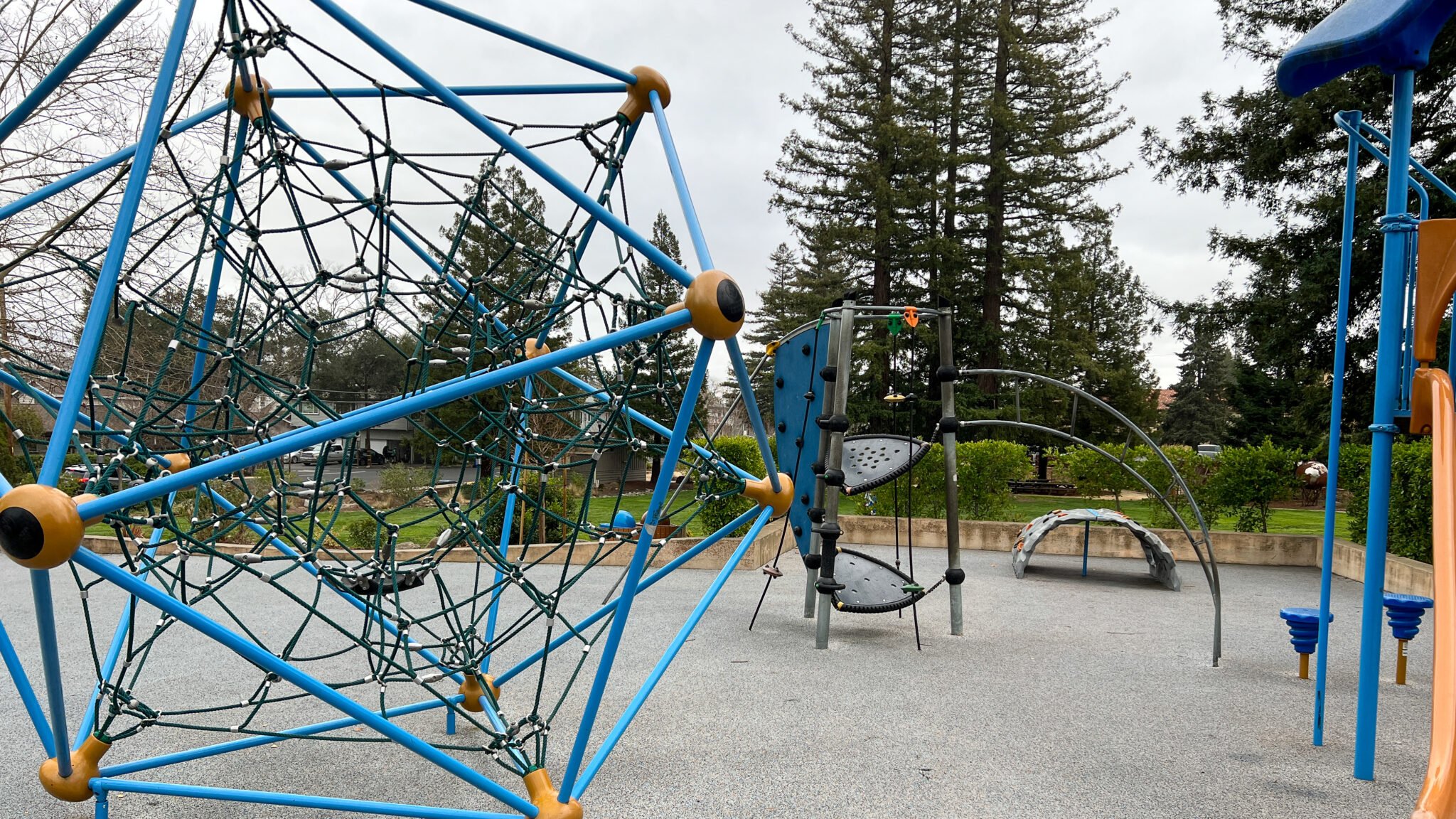 Anyway, back to finding a family friendly winery with a picnic spot. We added "family friendly" to the wineries we list that welcome our miniature duplicates, but keep in mind we're writing about picnics. Not all winery experiences will be available to children, even if the picnic area is.
Their Picnic Spots, Their Food
You opted out of hunting and gathering and want someplace that provides everything but the picnickers. There won't be any outside food, wine, or other beverages allowed at these properties, but if you don't want the hassle of packing your own provisions, they're a good choice.
Some of these will limit their offerings during the winter months, like Garden Grazing at Chandon or Pizza at Charles Krug, so always check the current offerings, which are usually available on their websites.
Wineries that allow picnicking with food purchased onsite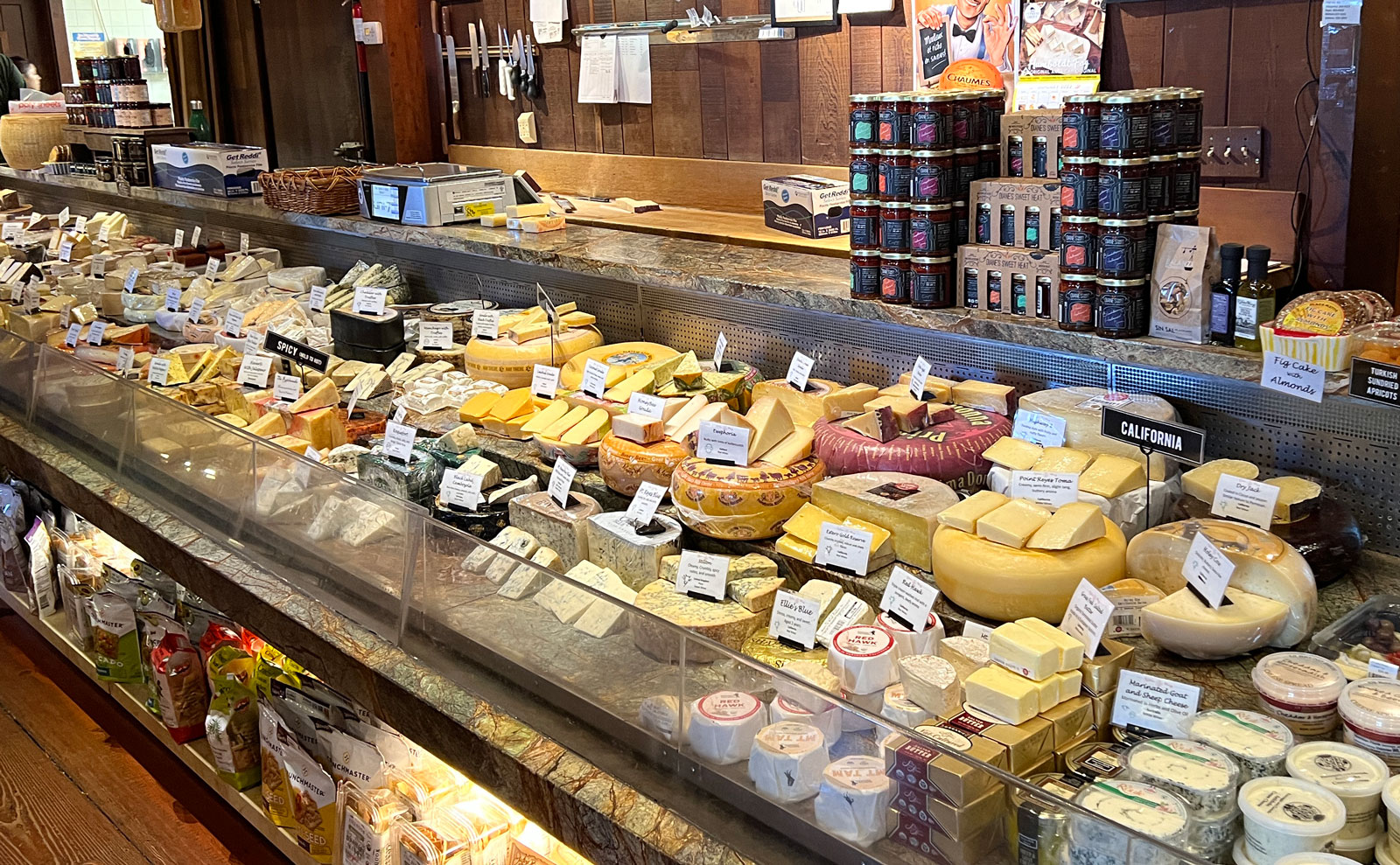 Their Picnic Tables, Your Picnic Provisions
You like the idea of gathering your provisions, making the next viral charcuterie design on Instagram, or just assembling precisely what you want to eat for your picnic. If this is you, wineries that let you bring outside food would love to be your picnic partner.
Remember that you can't bring outside alcohol to these properties, and you will need to pay for your picnic privilege one way or another, which varies by winery. For instance, some properties will ask for a fee per person or per picnic table where you can enjoy bottle service, while others may allow you to picnic before or after your scheduled wine tasting.
Wineries that allow visitors to bring their food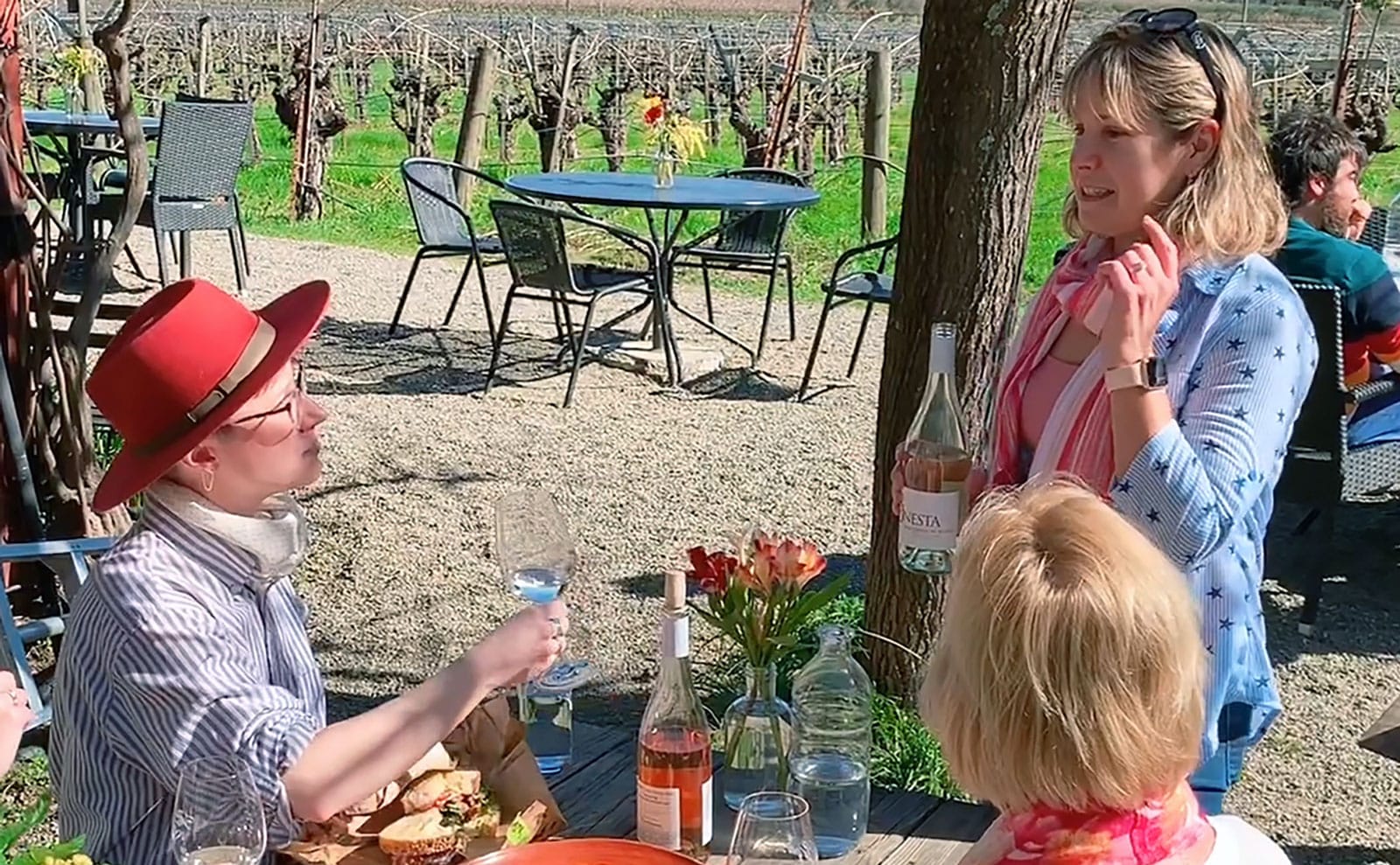 Wine Club Members Only
In case you didn't know, the way to be treated like a rock star at almost every winery is to be one of their wine club members. Members enjoy more access to everything at a winery, including available picnic venues.
This doesn't seem like something worth writing about, but it's surprising the number of people we've planned visits for that didn't realize they had privileges beyond just getting discounts and access to wine with their memberships. So, if you have a wine club membership, check for picnic privileges!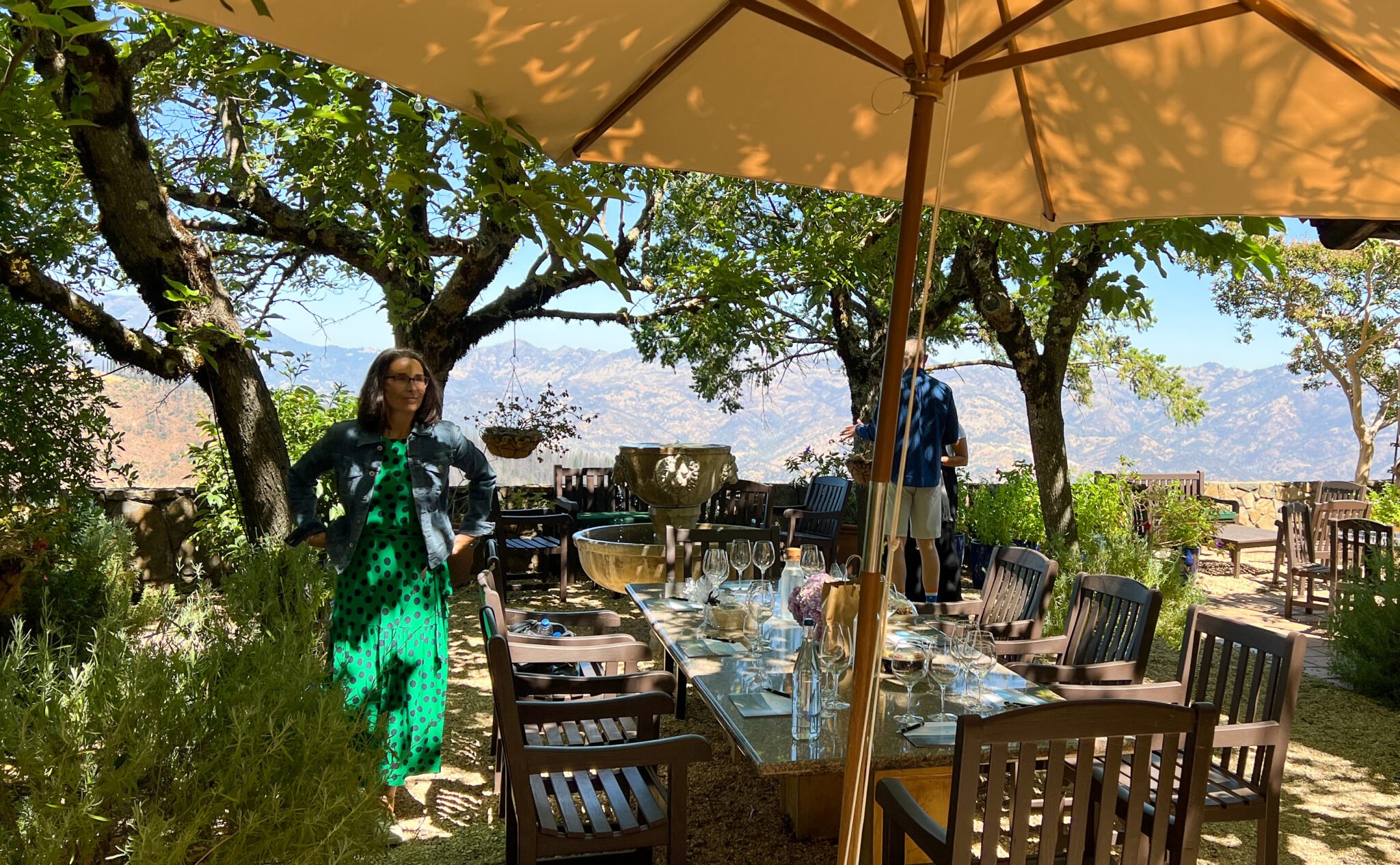 What Are the best picnic spots in Napa Valley that aren't wineries?
We'll frame the answer to this question assuming you'll be visiting wineries during the day and are just looking for a place to relax, eat and enjoy some tranquility before heading back out to taste wine. This will keep our list more manageable but know there are many more locations to look into if you're perhaps out for a day of hiking with a picnic on the side.
City of Napa:
Skyline Wilderness Park: This park is located on the southeast side of Napa and offers plenty of picnic tables and hiking trails.
Kennedy Park — Dog Friendly: On the southern side of Napa and runs along the Napa River with tables, playground, and bathrooms.
Yountville:
Veterans Park — Dog Friendly: On the south side of Yountville, there are many tables and a sand volleyball court if you want to do some Top Gun cosplay. Also, bathrooms here.
Yountville Park — Dog Friendly: On the northern side of Yountville with lots of tables, grass areas, bathrooms, and playground equipment for the kids. As a bonus, it's next to the George C Yount Cemetery and Ancient Indian Burial Grounds… take a quick stroll through and read some of the old headstones.
St. Helena:
Crane Park — Dog Friendly: On the southern end of town with lots of tables, playground equipment, and bathrooms.
Lyman Park — Dog Friendly: Right in the middle of town on Hwy. 29. There's a gazebo, a bathroom, and some sitting areas.
Calistoga:
Bothe-Napa Valley State Park — Dog Friendly: This park is located between St. Helena and Calistoga on Hwy. 29 and offers plenty of picnic tables and bathrooms.
Pioneer Park — Dog Friendly: On the western side of town, tables, playground, and bathrooms are here.
Off the Beaten Path: Exploring a lesser-known picnic spot
Most travelers who book a trip to Napa come for the wine and food and aren't looking for a big outdoor adventure. The thought of hiking 7 miles up to the summit of Mount St. Helena for a picnic overlooking wine country enters the mind of practically nobody. But for those that do have this thought and like to balance the fun of day drinking with some outdoor exercise and adventurous hiking while they're here, we have Robert Louis Stevenson State Park. Located on Mount St. Helena, in the northern part of Napa Valley, the park offers several hiking trails and picnic spots that can offer panoramic views to the ocean.
"Great little place to get away from the crowds in Napa Valley wineries. If you hike or drive up far enough, you'll get to some great valley overlooks. Take a picnic lunch up the trail to the Robert Louis Stevenson monument, placed in a small clearing far enough up the trail that most don't reach it. We enjoyed a quiet picnic with a wonderful half-bottle on a warm afternoon. Could not have imagined a better way to spend a day."
As you can see from this visitor's note, it can be worth the effort. But remember, this is serious hiking and you'll want good shoes, water, and all the right stuff for a day without modern conveniences.
Responsible Wine Tourism and Picnicking
Want to know why there are far more wineries permitted for picnics than allow picnics? Because they're tired of cleaning up after people and chasing off picnickers that aren't guests of the winery.
Having run wineries that were permitted for picnics, I have first-hand experience. It was so annoying dealing with people that wanted to use the winery picnic grounds but weren't guests of the winery or people that were guests and properly requested a picnic table but left all of their trash on the table and grounds for the winery staff to clean up. It didn't take long to ban picnics for everyone but our wine club members.
Napa Valley is a special place, not just for its wine and food but also for the beauty of its landscape and the diversity of its ecology. So, to act in an environmentally conscious way and stop giving wineries reasons to ban picnics on their properties, practice these responsible wine tourism principles:
Pack out any trash and waste you generate or make sure it gets into proper waste and recycling bins if they are available.
Respect wildlife and their habitats.
Stay on designated trails and paths, and don't wander off into the vineyards to make your own picnic area unless accompanied by winery staff.
Respect property owners and don't trespass on their land in search of the perfect picnic spot. Property owners complain to the county, and the county then tightens restrictions.
Eco-friendly picnicking
We're fans of taking care of the environment around us and always bring cloth napkins along on our wine tours to try and minimize paper waste. Along those lines, we want to call out a cute little organic vineyard working on nailing sustainability all the way through having a picnic in Napa.
Tres Sabores, on the western side of Rutherford, has what they call eco-elevated picnics. For guests that make arrangements in advance, they will provide everything you would need besides the core food; items like linens, palm-leaf plates, silverware, cutting boards, knives, and complementary house-made condiments, which means a lot less going into the landfill. They can also arrange lunch for you, in which case everything will be eco-friendly, and you won't have anything going into a landfill.
Food Lover's Guide to Picnicking in Napa Valley
You've picked a great picnic spot, and now you need food, a picnic basket, or something more than Easy Cheese for your picnic lunch.
Too much wine and too little food will make for an unpleasant day.
Well, you're in luck; there is fantastic food in Napa Valley… including food for a picnic. Below are some of our favorites, sorted by location so you can save some drive time and pick one closer to where you'll be.
Wherever you get your food from, it's always a good idea to order ahead if you have a tight schedule; we hear many people in lines talking about tasting appointments they're missing because it's taking so long to get food.
Also, always assume you need to order box lunches at least 48 hours in advance. You know you're going to need it and when you're going to need it, why not just get it ordered?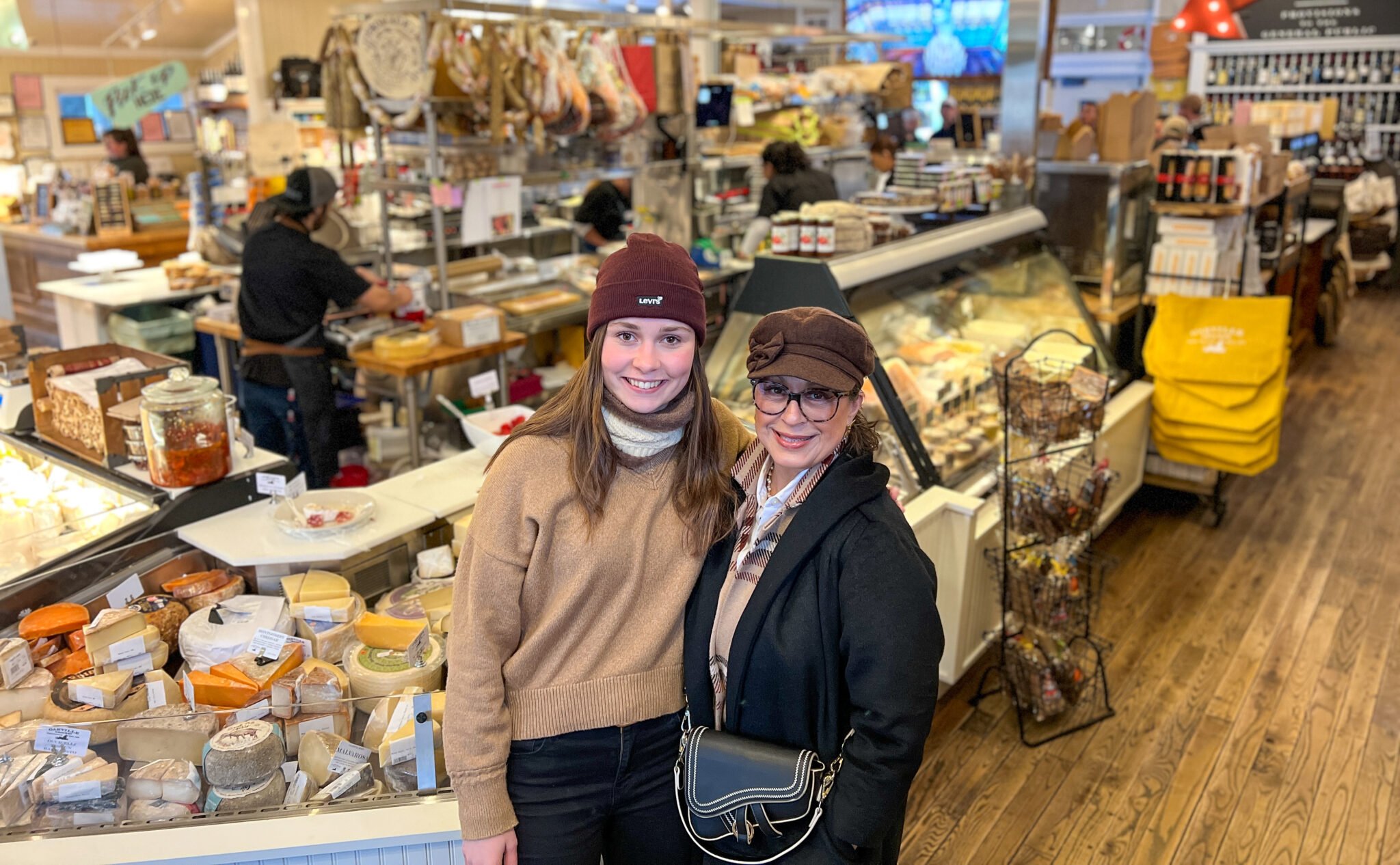 City of Napa: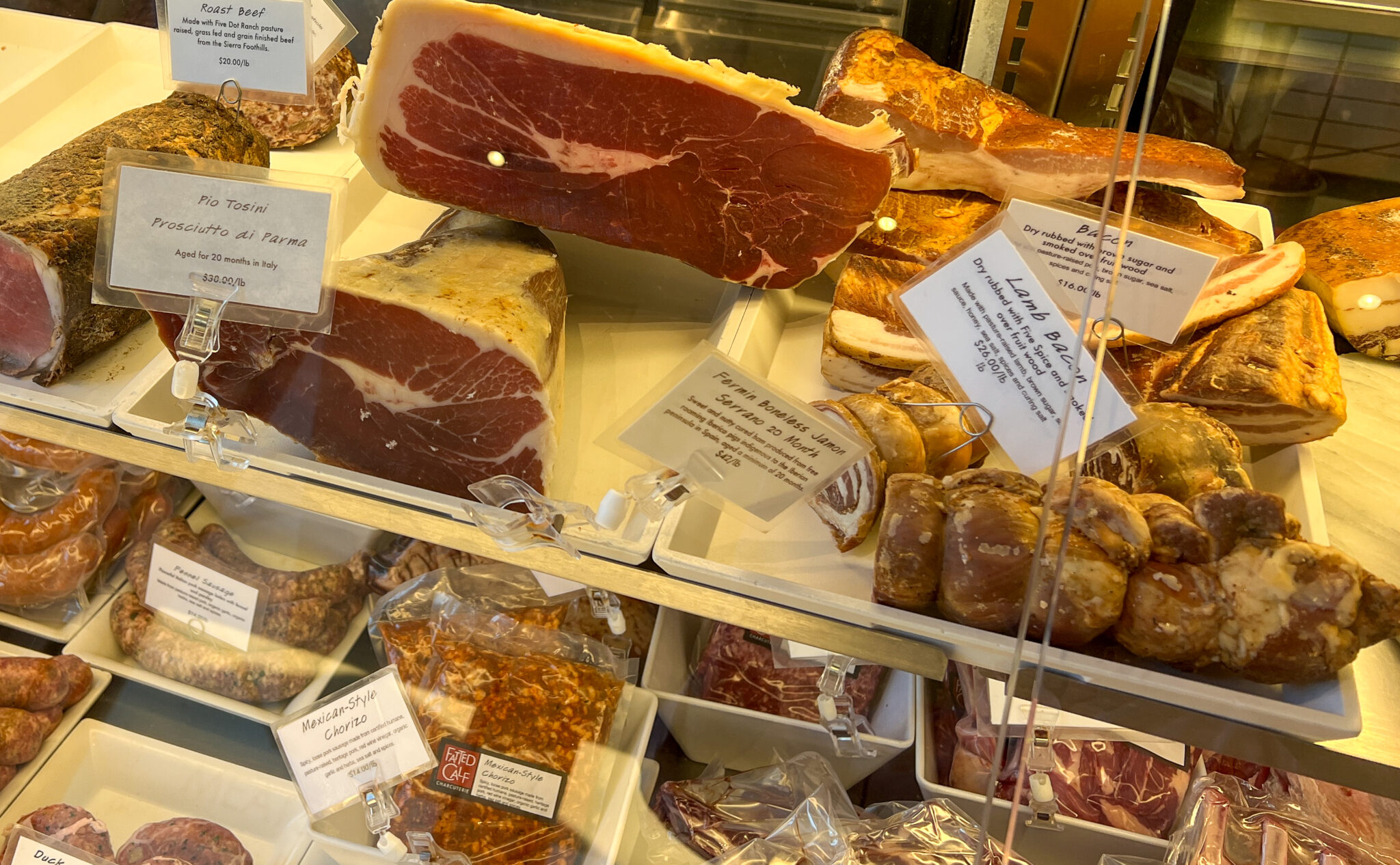 Yountville to St. Helena:
Velo Deli & Pizzeria: Aside from the great food here, we love that their website has online ordering. So, you can place your order, skip the line, and pop in to grab your order.
Bouchon Bakery: This Thomas Keller spot probably doesn't need any introduction. You can get some gourmet items for your Napa Valley picnic, and it's good, but the daytime line can be a bit long. It's a great option if you're staying in Yountville and going there for some pastries and coffee in the morning… grab lunch at the same time.
Oakville Grocery: California's oldest continuously operating grocery has some great food to go with its history. You'll find almost anything you could want for a picnic here, including lots of other people trying to get food. So our tip, order your sandwiches, salads, or box lunches in advance so you can skip the line. You can browse the store and get additional items when you pick up your main order.
La Luna Market: Breaking from the norm with this entry for a taqueria. If tasty, casual Mexican food is absent from where you live, or you're just craving it, stop here. The food is excellent, but the line can be long during harvest. It is just down the road from Honig, where you can picnic.
Gary's Marketplace: Gary took over the Dean & DeLuca space with similar offerings but added some excellent customer service. Most of the time, you can find Gary himself working the floor here. They offer cheese, meats, deli sandwiches, salads, and much more than we can list here, but we want to point out they have box lunches and cheese and charcuterie boards that can be ordered.  Closing July 2023, we will miss you!!!
Napa Valley Olive Oil: Aside from olive oil, this family-owned hidden gem carries fine Italian foods, house-made sausages, cured meats, breads, artisan cheeses, and plenty of other picnic items.
Station: Brought to you by Joel Gott (Gott's Roadside), The Station serves up local coffee, house-made pastries, sandwiches, salads, drinks, and other curated provisions located in St. Helena, basically in the Sunshine Foods parking lot. The food is good here, and it's generally very quick.
Sunshine Foods: Located in St. Helena, and if you ask any local, they'll tell you it's a great spot, hence the line that always seems to be there.
Giugnis Deli: This place is small, funky, and delicious. You can order online here to save some time, and if we're wandering through St. Helena on our own, we'll probably skip a gourmet lunch and grab a sandwich here with Giugni Juice on it.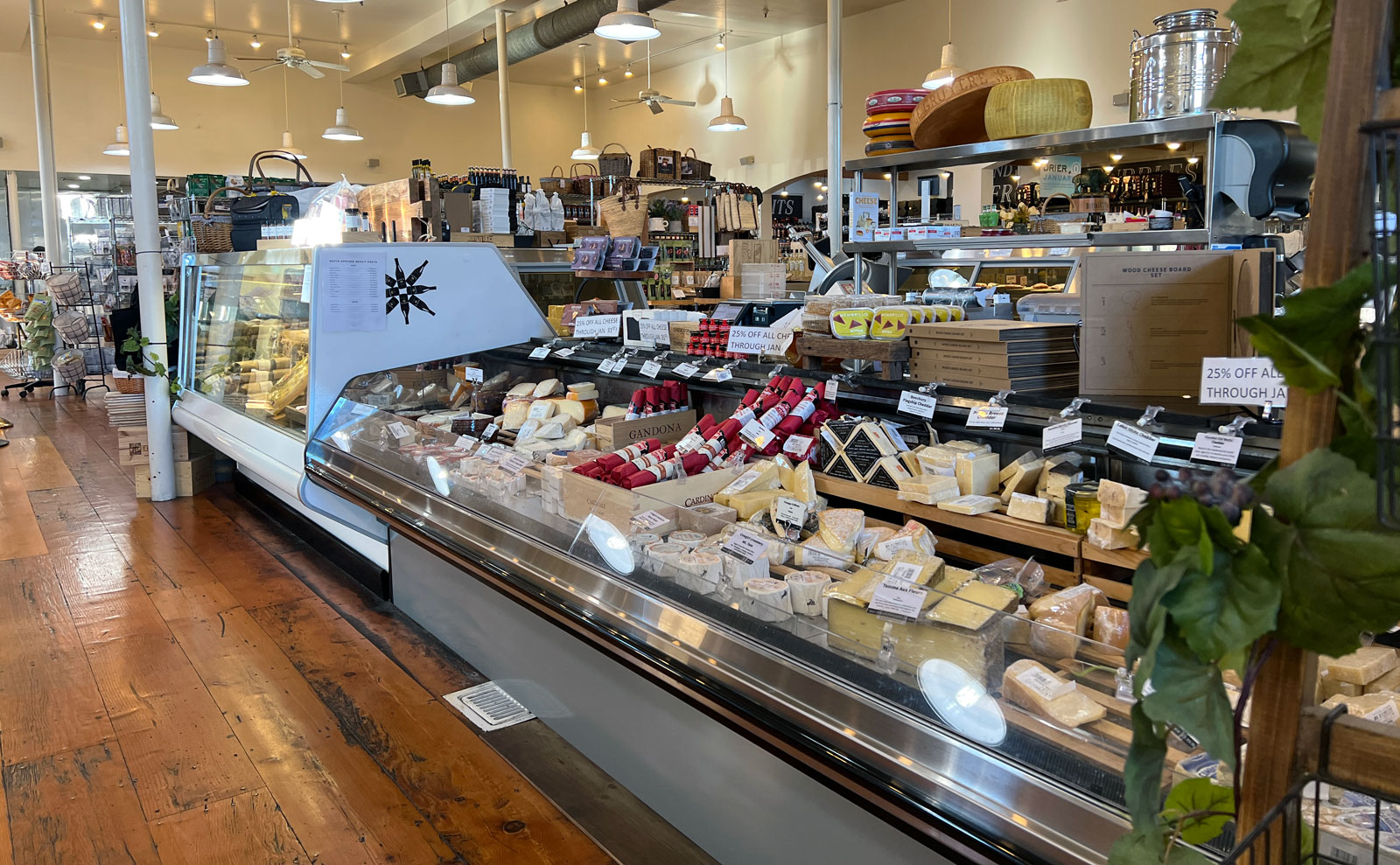 Calistoga:
Out of the Ordinary: Pro-Level Picnic in Napa
Ok, that was a lot of writing on our end and reading on your end. As a reward, here's something we do with guests when the weather is right, and we're in the Yountville area.
The first step is to grab some food, maybe tacos, from Tacos Garcia. Yes, that is an unassuming food truck in the parking lot of the only dive bar in Yountville. The second step is to take that food down the road to The French Laundry Garden and eat it there. That's right, eat some delicious tacos in the gardens of one of the most famous restaurants in the world… that's a unique Napa Valley picnic.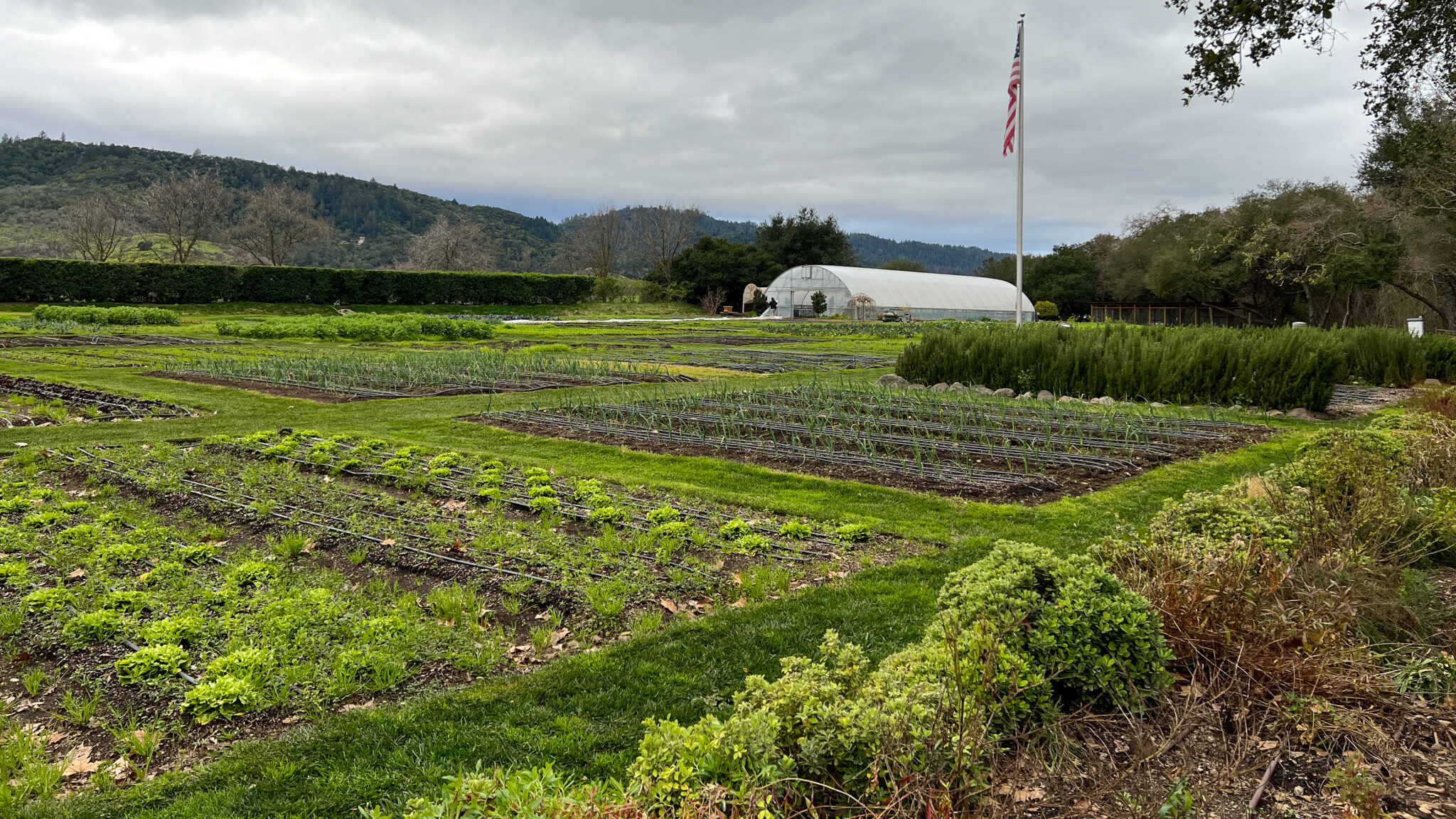 Or, Let Us Plan Your Wine Tour and Picnic!
This guide gives you all the information you need to plan a Napa Valley picnic. Which Napa wineries to hit, which picnic spots to visit with your own food, and how to break out of the ordinary and get off the beaten path. However, you can always let us take care of it for you!
Book a wine tour with us, and we'll ensure a perfect picnic lunch is part of your day and arrange your other tasting room visits. Either way, we hope you find this guide useful and that it overrides some outdated information floating around the internet.
Companion Map — Everyplace We Mentioned on a Google Map
We've made a Google Map of all the wineries, parks, and delis we mentioned in this guide. This should make it easier to figure out what places will be close to you.