Napa Valley for Beginners… you've never been to Napa Valley or are a budding oenophile. With so many distinctive viticultural areas, wineries and tasting options, one can easily get lost on their first visit to Napa Valley.
If you're just starting your love affair with wine or maybe you've been in love for a while but are planning your first trip to wine country, then you may find our Napa Valley for Beginners itinerary useful.
Often times people get recommendations from their wine knowledgeable friends before their first trip to Napa Valley and use those tips to plan their winery visits. The problem is, those tips are often high end, off the beaten path wineries. We've found that most first time visitors are better served by visiting some of the iconic Napa Valley wineries and historic estates in addition to some smaller family-owned wineries.
The other problem we see with first time visitors coming with recommendations is that they've made appointments at the recommended wineries and didn't realize the travel times or distance between them. This can make for a rushed day trying to be on time.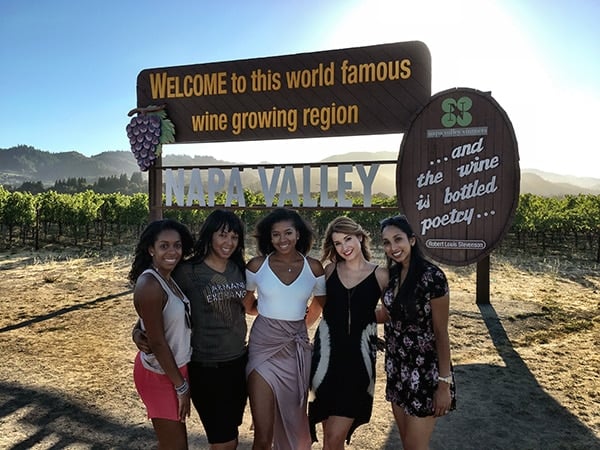 Napa Valley for Beginners - One Day Itinerary
To help you make the most of your first visit, we've put together this one day itinerary that will give you a great overview of Napa Valley as well as a glimpse into the mechanics of grape growing and winemaking… all at a comfortable pace.
Most everyone who has ventured into the world of wine has heard of Robert Mondavi. He was really the driving force behind making Napa Valley know around the world and this iconic winery shouldn't be missed.
This 90 minute, in-depth, winery tour goes from the vineyard to the cellar to the finished wine. Guests walk into the To Kalon Vineyard, visit the winemaking cellars (including fermentation and barrel aging) and receive a seated educational tasting of three wines.
Located in St. Helena, Sunshine Foods is a great spot to grab picnic provisions on your way to the next winery where you'll be able to enjoy your picnic with your tasting. Here's a tip, look at the menu and call your order in.
Located near Calistoga, Reverie is one of Napa Valley's smallest family-owned estate wineries. The vineyard is nestled on a steep, 40 acre parcel high up in the Diamond Mountain appellation.
This 1 hour walking around tasting will take you through their small production facility and cave, a great contrast to Robert Mondavi that you just visited, culminating with a tasting in their redwood grove while you enjoy your picnic. You'll most certainly be hosted by one of the family members.
Frog's Leap is located in the Rutherford appellation of Napa Valley. For more than 25 years they've been well known for advancement of organic grape growing, dry farming and many aspects of biodynamics. A perfect spot to round out your exposure to Napa Valley, a winery larger than Reverie and smaller than Mondavi.
The Garden Tasting is the most casual tasting they offer and you'll be able to stroll around the property, relax in one of the many Adirondack chairs or take in the view from the Red Barn… all with a glass of wine, of course.
Three wineries, an in-depth educational tour, picnic lunch in the vineyard and relaxing in organic gardens… a perfect Napa Valley for Beginners day!
It's important to note that you will need appointments for all of the winery tours and tastings mentioned above… don't wait until the last minute to book them. Of course if we're driving you, we'll take care of all the arrangements, including ordering your lunch and providing proper linens for your picnic.