Father-son relationships typically inspire images of fishing trips and tossing a ball in the front yard, but at Thomas George Estate this bond goes far beyond outdoor sports. Father-son team Thomas and Jeremy Baker put their heads, hearts, and hands together in their shared dream of creating great wines.
The Baker family is the second to own this Healdsburg estate, having stepped into the intimidatingly large shoes of Davis Bynum—the first producer to bottle wine with the Russian River Valley designation. With the support of their estate's original founder, the new team at Thomas George Estate builds on their winery's legacy to imagine even greater possibilities.
The winery's primary focus rests on the unique terroir of their three estate vineyards: Starr Ridge, Baker Ridge and Cresta Ridge. These vineyards are predominantly Pinot Noir and Chardonnay, three varietals that thrive in the Russian River Valley, but there are also a few acres of Viognier and Grenache on the property. In addition to farming on the estate, the winery partners have carefully selected growers elsewhere in the Russian River in order to craft small amounts of Zinfandel, Sauvignon Blanc, Syrah and Pinot Blanc under the Thomas George Estate label.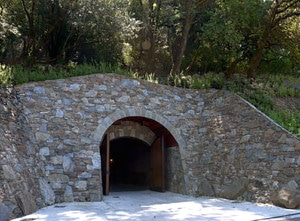 The stunning Thomas George Estate property off Westside Road boast a state-of-the-art tasting room, but visitors can also arrange for a tasting in the cool depths of the wine caves. These caves offer an almost mystical environment for sampling the day's wine flights, which usually feature single-vineyard Pinot Noirs as well as other smaller production bottlings.
These well-balanced and elegant wines offer reason enough to visit the property, but there's more than just wine tasting to enjoy at the estate. The perfectly landscaped garden, views, and four designated picnic areas provide lovely opportunities to enjoy the beauty of the Healdsburg area. With a prior appointment, it's also possible to tour the estate vineyards and walk the vine rows for yourself.
Thomas George Estates is a family-run winery with an impressive legacy that continues to look into the future, refining their winemaking philosophy and vineyards in the effort to make even greater wines in years to come. This ambitious and beautiful place is yet another reason that Westside Road belongs on your next tour of the Russian River Valley. Learn more on their website.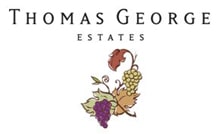 8075 Westside Rd
Healdsburg, Ca 95448
(707) 431-8031