Dry Creek Valley wine tours… bucolic undisturbed beauty. This small viticultural area boasts one of the densest concentrations of Old Vine Zinfandel in the world, with history dating back 140+ years.
Long, warm days allows fruit to fully ripen, while coastal cooling in the evening allows it to mature slowly retaining acidity and balance. Perfect conditions for Zinfandel and Sauvignon Blanc, the region's signature wines.
More than 70 wineries are located throughout Dry Creek Valley and nearly all of them remain family-owned with limited-production, premium wines. Guests enjoying Dry Creek Valley wine tours are likely to be greeted by the winemaker, owner or family member in the tasting rooms – each offering a unique combination of history, wine and tasting experience.
Our personalized Dry Creek Valley wine tours will help you decide which of these 70 wineries are the right match for you.
Dry Creek Valley is also leader in sustainable winegrowing and has committed to being 100% sustainably farmed by 2019. A number of wineries have also formed The Green Trail of Dry Creek Valley and offer informative tours of their certified organic & certified biodynamic wineries.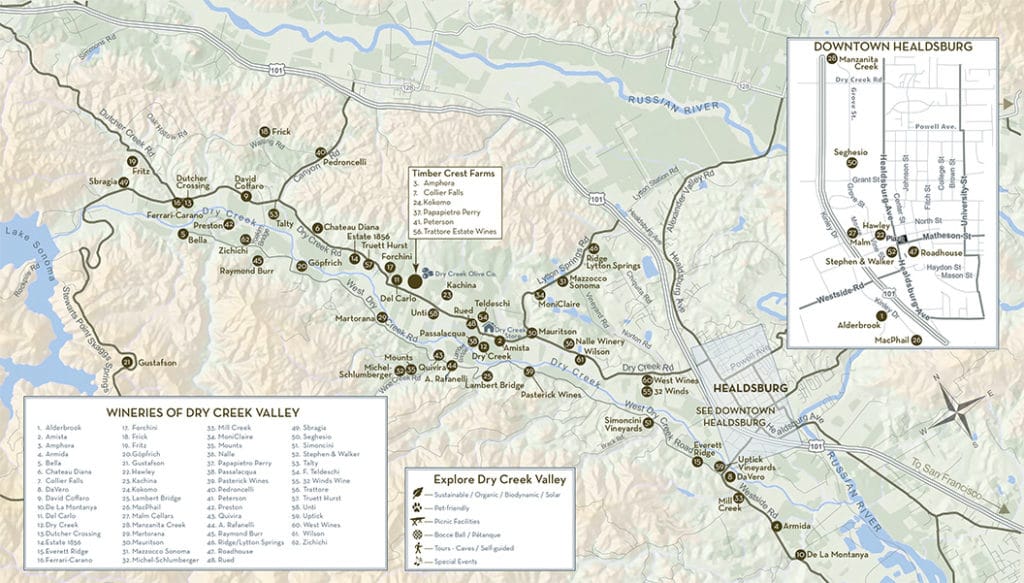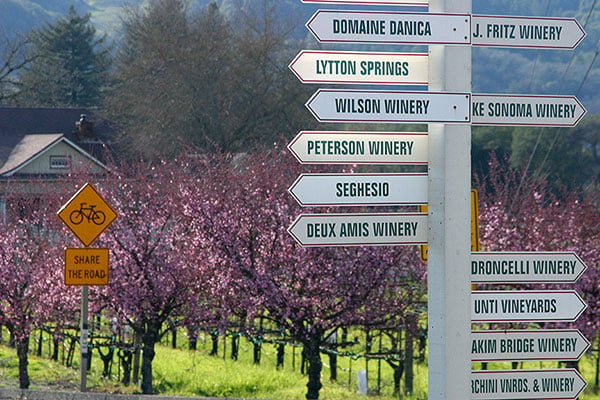 Visitors to Dry Creek Valley can find a wonderful mix of wine country history and modern luxury in nearby Healdsburg. Great shops and restaurants are just moments away from the wineries and vineyards, the quaint charm of this town has made it a popular destination for locals and tourists alike… including us 🙂
Favorites for Dry Creek Valley Wine Tours
Dry Creek Valley wine tours can be quick or you can spend a couple of days getting to know the intimate details of this little AVA. No matter what your desires are, we look forward to crafting a visit tailored to you.
---